I have on several occasions criticized Swansea Council for their unwillingness to expand Welsh-medium education in line with the parental demand for it. In particular I have called for them to set up new starter schools in some of the old English-medium schools that were closed last summer because they had too many surplus spaces. The articles are here:
New Welsh-medium schools in Swansea ... 8 March 2010
A proposal for two new Welsh-medium schools in Swansea ... 11 April 2010
Ysgol i Ogledd Gwyr - A School for North Gower ... 28 August 2010
This is an extract from what I wrote in the first of these, just after confirmation of the decision to close Cwm Primary:
No school closure decision is easy, but what has happened does open up a solution to Swansea's problem of where to open at least one much-needed WM school. At present there is no WM school at all in East Swansea, at least not until you get as far north as YGG Lôn Las in Llansamlet. The RhAG report I linked to shows that a considerable number of children from Bon-y-maen have to travel 2km or more to get to YGG Lôn Las, and that some even travel 6km or so from St Thomas:

74 children from Bonymaen attend Lôn-las and 20 from St. Thomas. 9 children from St. Thomas attend Bryn-y-môr. 103 children from these areas suggests that there are sufficient numbers here to support a Welsh medium school, and quick growth could be anticipated.

So we have the bizarre situation where some parents are up in arms because their children will have to travel a maximum extra distance of just over 300m to get to Cwm Glas, while there are easily enough local children in Bon-y-maen who are currently having to travel many times further by bus or car to get to the closest WM school, but who would be able to walk if the Cwm buildings were to become a WM school. And for the community as a whole it's surely better for the buildings to remain in use, for they will be just as much available for community use outside school hours as they are now. To me, it's an obvious solution to a pressing problem.

Cwm Primary is closing simply because the numbers wanting EM education do not justify two EM schools with so many surplus places in such close proximity to each other ... but its closure opens up the opportunity for Swansea to provide more WM places in accordance with the wishes of the 28% of parents that want it for their children.
So it was rather a pleasant surprise to read this in the Evening Post yesterday:
Welsh language school plan for closed primary

A primary school which was closed last year because of falling pupil numbers and crumbling buildings could reopen – as a Welsh language school.

Cwm Primary School in Bonymaen, Swansea, closed its gates for the last time in July after 150 years, despite protests from pupils, parents and governors. But it has now emerged that the junior block of the Eastside school could reopen as a Welsh "starter" school by 2012 because of growing demand for places – though this would only be until a permanent site could be developed.

Swansea Council said the new use for Cwm Primary would help to plug the growing gap in Welsh language education – it forecasts that by 2016 there will be a shortage of some 73 places.

Mike Day, Swansea Council's cabinet member for education, said: "The demand for Welsh-medium primary school places is continuing to rise, and our existing schools simply haven't got the room to meet the demand from parents. While we need to consider further the longer-term options, we have to provide a shorter-term solution because demand is outstripping supply.

"Cwm's former junior block in Bonymaen is the most appropriate site for a starter school. This will help us meet the demand for places and also prevent local children having to travel out of their community to get to the nearest Welsh-medium primary school." He added: "This proposal would also bring the former junior block back into education use, which will hopefully be welcomed by the community."

Plans for a temporary Welsh school in Bonymaen are due to go to the council's cabinet on Thursday – if they are approved, a formal consultation process will begin.
I'd call that a win!
As the aerial picture shows, the school has two separate blocks, with the older Victorian building at the bottom right and what looks to be a seventies building at the top left.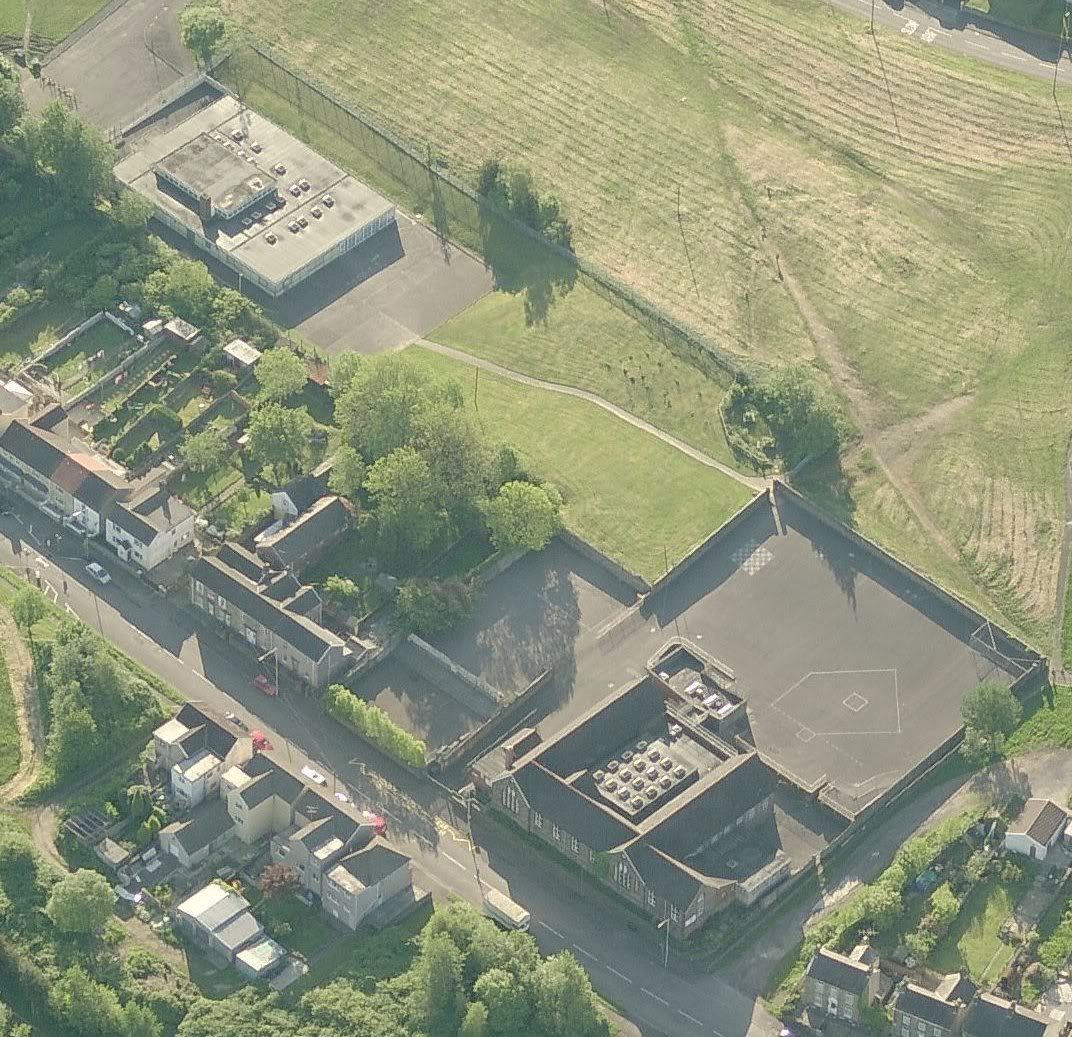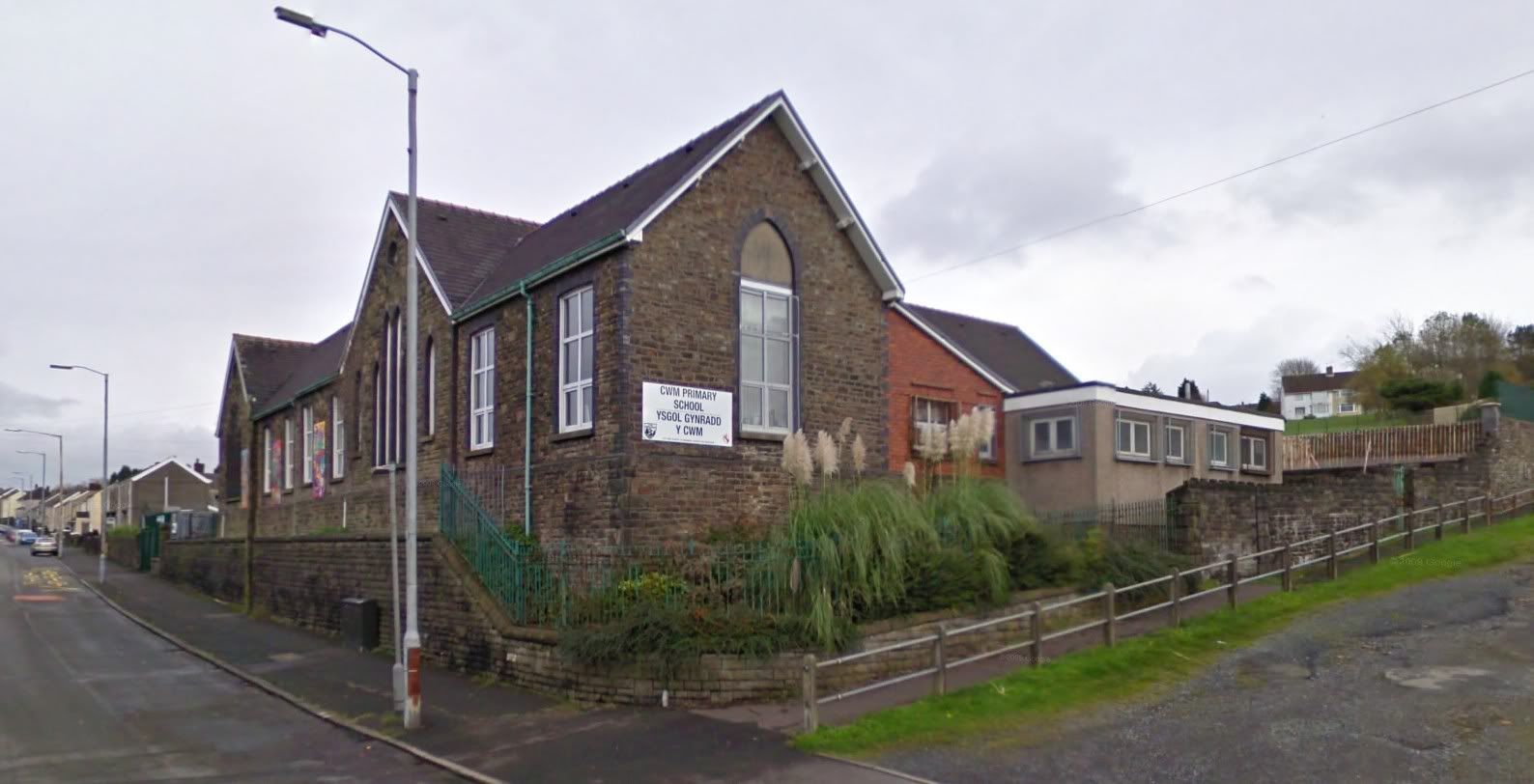 Now I do think it's fair to say that these school buildings are not in the best of condition, but I'm not sure they are in so bad a condition as to be described as "crumbling". When putting together the case for closing a school, there is a tendency to overstate things in order to justify the decision. But the essence of a starter school is that it begins with one or two classes, and then grows. That means there is plenty of opportunity to refurbish one building while the other is being used, or even to knock one of them down and rebuild a new school. Yet, with the current financial situation being what it is, I'm sure things can be patched up for a few years until a long-term decision—which will obviously depend on funding—can be made.
But what is important is that Swansea makes a commitment that if the numbers justify it (and the evidence from RhAG shows that they will) they will either refurbish or rebuild on the same site or very close to it. If Swansea can't do this, then parents will naturally be reluctant for their children to start their primary education in one place, but then have to travel miles to a new, unknown location in two or three years.
-
The other obvious question to ask is why Swansea are not thinking of opening the new starter school until 2012. Why should a building that is already sitting empty have to sit empty for another year, when there is plenty of demand for Welsh-medium education from the east side of Swansea right now? There can be no reasonable grounds for objections, since the EM school has already been closed, and no planning objections because the buildings already exist. On top of that, a building standing empty is much more likely to deteriorate or be vandalized than a building that is being used.
So I would urge Swansea to aim to open this starter school this coming September rather than in September 2012.
-
But these reservations aside, I wholeheartedly welcome Swansea's decision ... and I only wish they would apply the same logic and reconsider what to do with the school buildings at Arfryn and Llanmorlais.