A couple of weeks ago in this post I welcomed Swansea's decision to go out to consultation on a proposal to open a new Welsh-medium school in the old Cwm Primary School in Bon-y-maen, on the east side of Swansea. Since then the consultation document and the Cabinet Report on which the Council based its decision have been published, and I'm quite pleased with what they say.
Consultation Paper
Cabinet Report
The Consultation Paper is relatively straightforward. It includes this map showing that the catchment area is the southern half the current catchment area of Ysgol Gymraeg Lôn Las, and says that the admission number will be at least 23.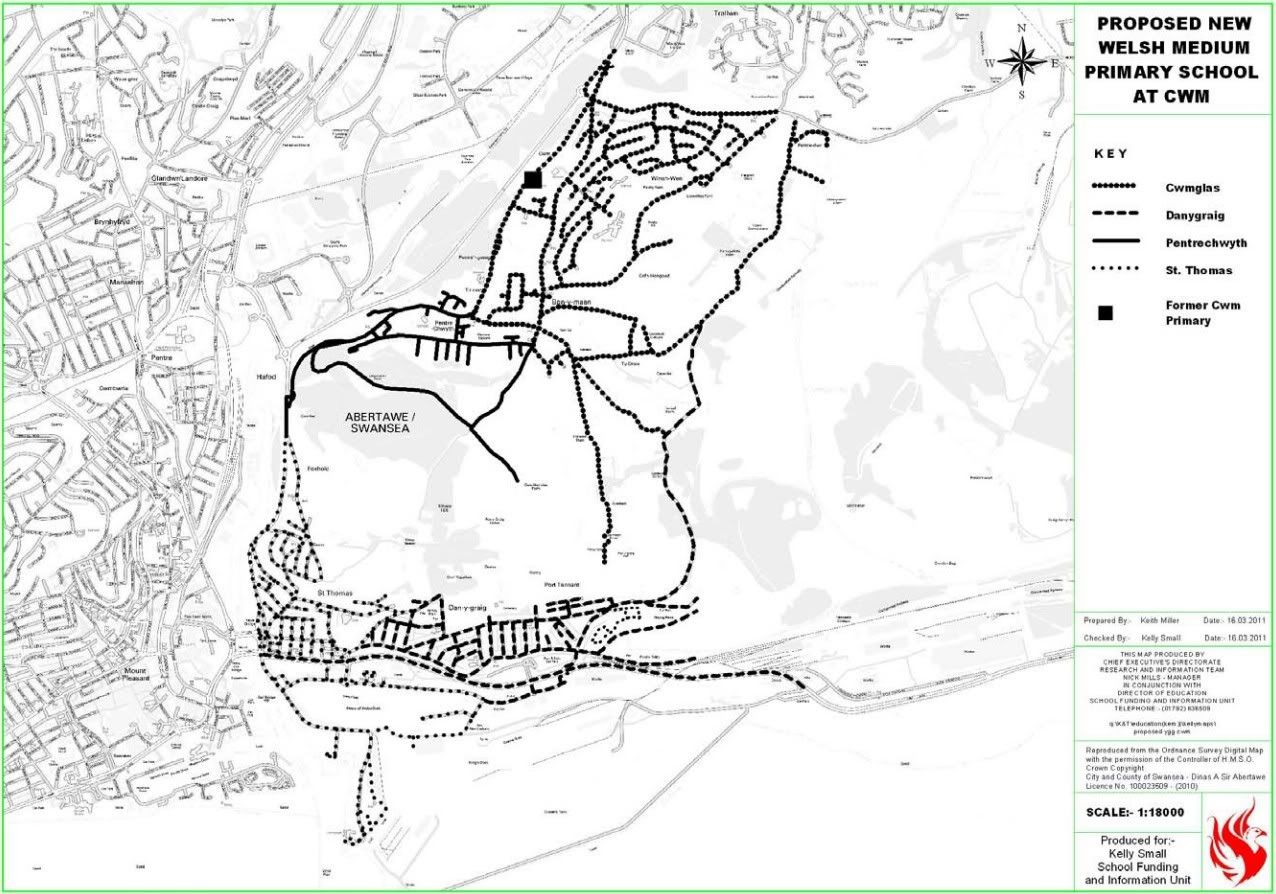 The Cabinet Report (the proposal is in the third part of the document, starting at page 27) gave some interesting information on Swansea's thinking. One of the questions I asked before was why the proposal was to set up this school for September 2012 rather than for September of this year, since the demand is obviously there. On the question of demand, the report says this:
As at January 2010 there were 38 surplus places at YGG Lôn Las (9.0%) ...

YGG Lon Las currently has an admission number of 60 but the local authority had to admit over this number ... As demand continues to grow at YGG Lôn Las there is simply no scope to admit them at the school, nor in the next nearest Welsh medium school, nor indeed, the next nearest either. Under existing Council policy transport costs are incurred where a pupil has to travel more than 2 miles to attend the nearest appropriate school.
So the pattern of growth at Lon Las is such that, even though there is space in the older year groups, the current intake in the early years is now much greater than Lôn Las can sustain. The school had to admit 15 children more than the admission number of 60 last September, and it is fairly obvious that this number is going to go up again this coming September. But it does appear that Swansea have thought that one through:
It was previously considered that a possible way forward could be to establish a starter class in one of the two buildings on the former Cwm Primary site from September 2011. As long as this remained temporary accommodation (for no more than 3 years) it would not be necessary to undertake any formal statutory consultation process. It would then have been necessary to undertake a full statutory consultation to establish a new Welsh medium primary school on a permanent site once this had been determined. The possibility of setting up early years provision on the site from September 2011, linked with an existing school, is still under consideration.
This formal consultation is in fact to establish a permanent school in its own right with a separate headteacher and governing body. However there is nothing to stop Cwm Primary coming into use in September this year as overflow accommodation which is officially still a part of Lôn Las. As it happens, this is exactly what Cardiff did at Gabalfa, which for a year operated as overflow accommodation to Melin Gruffydd, but then became Ysgol Glan Ceubal in its own right. Obviously I wouldn't expect Swansea to commit to anything now, but they will know if the proposal has been approved by summer, and the Junior Block of the old Cwm Primary is sitting empty and ready to be used at short notice. The only alternative would be to put up more temporary accommodation at Lôn Las; but that would cost money, so the decision should be a no brainer.
The other thing that had concerned me was that the Cwm Infants Block is now home to the Bon-y-maen Family Centre. But it appears that this is temporary and it will be rehoused in Cefn Hengoed when refurbishment there is complete. That means that both blocks at Cwm will eventually be available for the new WM school, with a capacity of 167. It may well not be a permanent home if money becomes available to build a new school or if, as the most telling part of the report states:
Once the school has been established it will be possible to determine whether the Cwm site is the most appropriate permanent location for the new school or whether the wider rationalisation of English medium provision might provide a more suitable permanent location. This decision will need to reflect the natural catchment area that develops for the school and also the implications of wider housing developments in Neath Port Talbot.
I guess that means that as future phases of the Coed Darcy development get completed, either a second new WM school will open there which might attract children from around Port Tennant; or maybe that a new EM school there might do the same, leaving an empty EM school building which could house a larger WM school. I wouldn't mind betting that the latent demand will result in it being another WM school, rather than a replacement for this one.