It was interesting to read this in a story from the BBC on a report by the Green Alliance:
The report ... also shows that 6.29% of the electricity used in Wales comes from renewable sources – lower than the UK average of 7.45% and way behind Scotland's 22.45%.
The report itself is available from this page, and is all a bit too glossy for my liking. However there is a separate document which shows how they did their calculations, and this is the relevant table from it: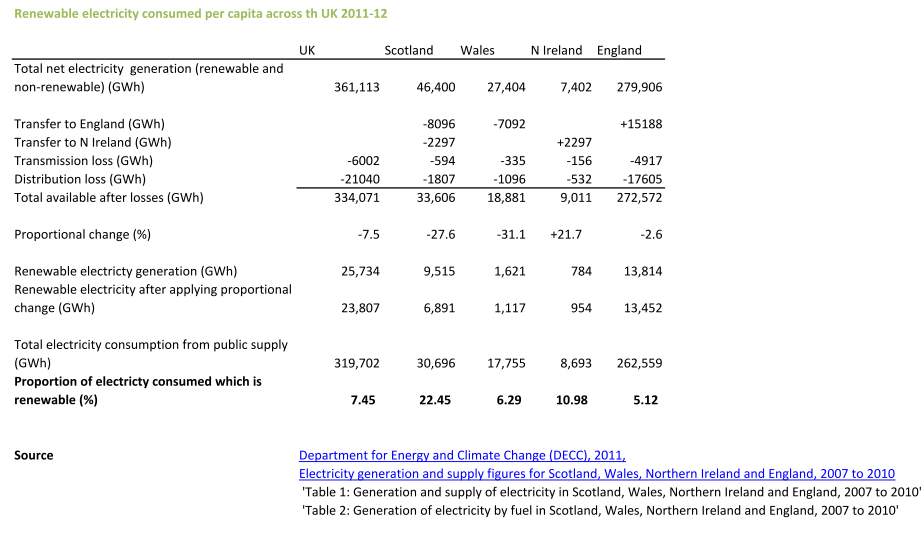 Both Wales and Scotland export electricity; but GA have done the maths in such a way that a proportion of electricity generated in Wales and Scotland from renewables is accounted as being used in England and Northern Ireland.
They start with net electricity generated, and rightly make a percentage allowance for transmission and distribution losses (on average 7.5%). So far so good. But they then indulge in some mathematical sleight of hand by compounding this with the electricity Wales and Scotland export. The effect is to reduce the percentage figure from renewables for exporters of electricity like Wales and Scotland, but increase it for importers of electricity like England and Northern Ireland.
Therefore Wales' electricity generation from renewables gets reduced by 31.1% instead of 7.5% (it's slightly less, but the UK average figure will do), Scotland's gets reduced by 27.6% instead of 7.5%, England's gets reduced by only 2.6% instead of 7.5% and NI's actually increases by 21.7% instead of reducing by 7.5%.
This is not exactly wrong, for electricity is electricity no matter how it has been generated. But it masks the overall picture, which is that England and NI are consuming electricity that has been disproportionately generated from renewable sources in Wales and Scotland, making their renewable figures look better at our expense.
It would be clearer to say that Wales' 1,621 GWh/yr should be reduced by only 7.5% for transmission and distribution losses to 1,499 GWh/yr, i.e. that the electricity we generate from renewables accounts for 8.45% of the electricity we consume rather than 6.29%. The equivalent figure for Scotland would be 28.67% instead of 22.45%. But for NI the figure would be 8.34% instead of 10.98%, and for England it would be 4.87% instead of 5.12%.