With a hat tip to Dewi at Slugger O'Toole, there was a nice graphic in the Guardian this week showing UK public expenditure for 2010/11 compared with 2009/10, adjusted for inflation. Click the image to open the article.
As a whole, UK public spending is virtually unchanged, going up by only 0.34%. There's a lot of interesting stuff to digest at leisure, but in the bottom right hand quarter are the devolved expenditures for Wales, Scotland and Northern Ireland. I've zoomed in on these and shown them at the same scale for comparison: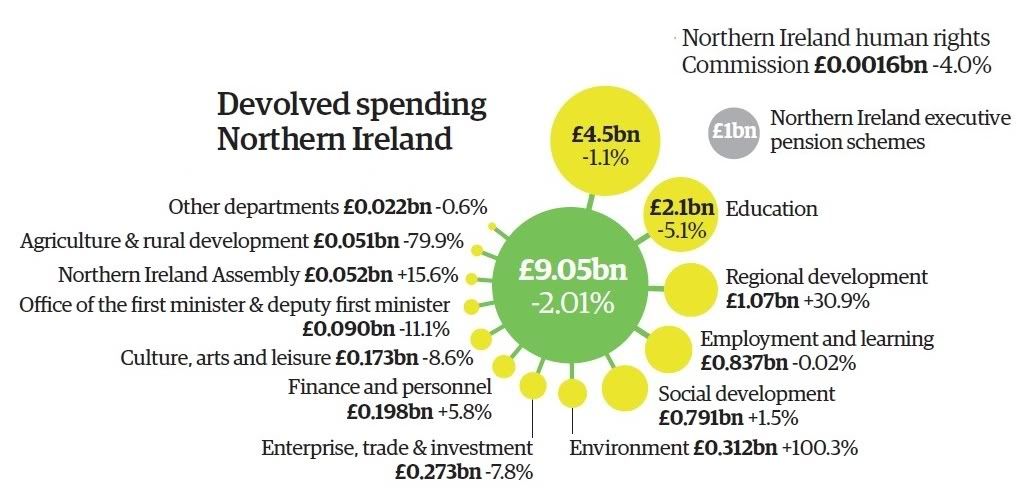 As we can see, Scotland has received a 2.95% increase in expenditure in real terms, getting a better deal than the UK as a whole; Northern Ireland has received 2.01% less in real terms; but Wales has suffered a reduction of 3.92% in real terms.
Of course the settlements reflect different devolved responsibilities in the three administrations, but we can make these two points: first, that these responsibilities have not changed between 2009/10 and 2010/11; and second, that because overall UK spending is almost exactly the same it means that the cost of things devolved to Scotland and Northern Ireland but not devolved to Wales would have very little effect on the overall Welsh figure. And even if we focus on the most obvious difference, we can see that Westminster's spending on police and crime was reduced by 3.2%, which is only very slightly less than the Welsh reduction.
So from these figures it's clear that Wales has had to take a much more severe cut in public expenditure than any other part of the UK.