A GUEST POST BY PENDDU
There has been lots of discussion over the last year about Britain's High-Speed Rail network, or rather its lack of one, and there have even been promises made about electrifying the Great Western Main Line from London to Cardiff and possibly Swansea. Ignoring the obvious electioneering and political gamesmanship, this issue has major implications for the Welsh economy, and needs to be looked at carefully.
There have been a number of reports published by various rail lobby groups and there is a report due to be published soon by the UK government, but the most significant one is arguably this one published last month by the Bow Group:


The Bow Group who are a Conservative policy body, and considering that the Conservatives are almost certainly going to form the next UK government their views are particularly relevant.
Before considering the Welsh implications in more detail, their report proposes a new High Speed line – HS2 – running from London Euston to Heathrow then on to Birmingham, Manchester and Leeds. The line would allow direct connection to the existing HS1 line to Paris and Brussels, and could be extended later from Manchester to Glasgow and from Leeds to Newcastle and Edinburgh.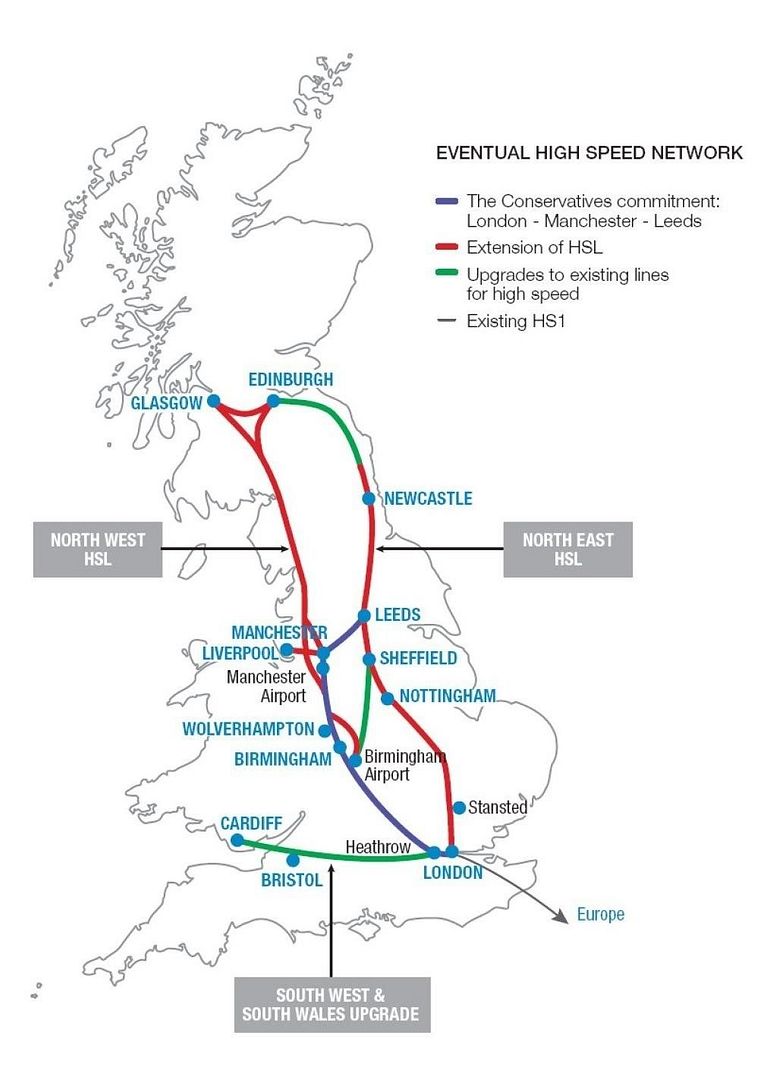 The report comes out very strongly in favour of routing the line via Heathrow, where a major transport interchange would be created, linking HS2, The Great Western Main Line, CrossRail and local services. This station would be situated a few km north of the airport itself, adjacent to the M4 and M25 and with a people mover system used to shuttle passengers from the station around the various airport terminals.
And it is the Heathrow Hub which is key to Wales. As a frequent flyer myself, it is very difficult to get to Heathrow from Wales by train, and many businesses will have chosen not to locate in Wales because of its poor air connections. But simply by locating a HS2 station at Heathrow – adjacent to the GWML, it immediately makes Heathrow more accessible from Wales, reducing the connection time significantly as well as providing an opportunity to connect to international trains with a simple cross platform transfer.
But the report goes further than that – it notes that the GWML is already built to an excellent alignment and could easily be upgraded to a 200 mph capable route mostly by just resignalling, although the Severn Tunnel would remain a bottleneck. It even suggests that a high speed GWML would be completed before the HS2, reducing the Cardiff–Heathrow journey time to as little as 1 hour. This would make South-East Wales a much more attractive location for international businesses.
The report does not make any specific proposals for North Wales, although a station at Manchester Airport is proposed which would effectively become the gateway to North Wales, and we need to ensure that the North Wales railway network can connect directly to Manchester Airport in order to reap the same benefits as HS2 will bring to the South.

---

For some information and discussion about various other High Speed Rail proposals, please look at this page on the Syniadau Forum.

---

14:30 - Monday 22 February 2010
MH: These two images from the Bow Group's report show the location of the Heathrow Hub in relation to both the airport and to the wider rail network. Not only would it be easy to get to Heathrow from south Wales (and the south west of England) directly by rail, but it would also be possible to change at the Heathrow Hub to catch a High Speed train directly to Europe.
Passengers from mid Wales would travel by rail to Birmingham, and passengers from north Wales to an interchange just south of Manchester, in order to catch a HS train to directly to Europe.
At present only 27% of journeys to Heathrow from south Wales are made by public transport, either train or bus. 73% of journeys are made by car or taxi. From south west England the figures are 34% and 66%.