In his blog yesterday, Gareth Hughes mentioned one of the conspicuous omissions from the new Programme for Government published by Carwyn Jones.
It contained many worthy aspirations, but the one major area that might determine whether his programme sinks or swims was missing. In Labour's manifesto they had the intention:

"to review and seek realignment of the governance and performance of the Assembly civil service, better to reflect the developing requirements of devolution whilst remaining part of the Home Civil Service."

Now it wasn't by chance that this appeared in the manifesto. It wasn't one of these meaningless commitments thrown into bulk out the document. It was heartfelt. It appeared because many ministers in the last government felt that the civil service was "not fit for purpose." Not up to the job, but Ministers weren't able to do anything about it. Hence, their determination to change things. They really thought that if it went into the manifesto it would happen.

But today, nothing, not a whisper. Oh, never underestimate the basic conservative instinct of civil servants.

Sir Humphrey has ensured that his comfortable little number will not be scruninized by the Hackers of this world. How confident can Carwyn Jones be that his "Progamme for Government" will be met if it's left to an unreformed civil service to carry out?
My reaction to this omission is, as people might expect, a little different. If all you have to offer is a lacklustre set of proposals, it probably helps to be able to blame someone other than yourself for the lack of ambition behind them. Who better to blame than the Civil Service? They're hardly the best loved of public servants, anyway.
-
And yet—by one of those coincidences that can only be described as excruciatingly embarrassing rather than merely unfortunate—on the very same day that Labour in Wales admitted that they aren't going to bother to try and make the Civil Service work better for Wales, a report has been published showing how the Civil Service in Scotland has been successfully transformed, and transformed for the better. Click the image to download it.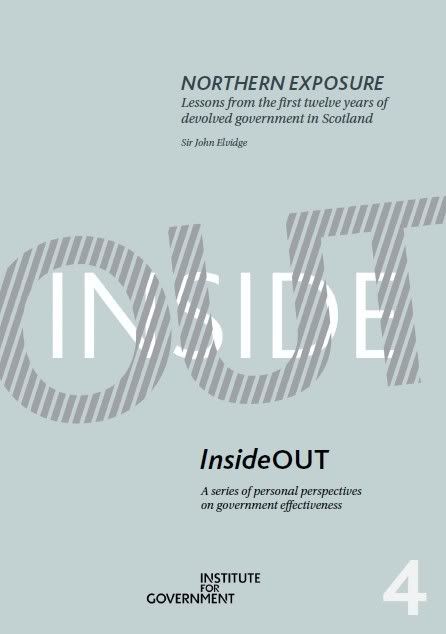 The report was written by Sir John Elvidge, who is the former permanent secretary to the Scottish government. This is a short summary of it from eGovmonitor:
Scottish Government Leads the Way on Radical Civil Service Reforms in the UK - New Paper

Whitehall can learn more from the successes of the civil services reform north of the border in Edinburgh, a new paper from the Institute for Government (IfG) written by Sir John Elvidge, former permanent secretary to the Scottish government has claimed.

In his paper, Northern Exposure: Lessons from the first twelve years of devolved government in Scotland, he articulates how he as the senior most civil servant in Scotland worked with the minority SNP government, to radically transform the structure of government so it works together around a "common national purpose". These measures included reducing the number of ministers and abolishing departments and aligning the whole Scottish public sector around a single framework of national purpose – whose outcomes would be tracked and measured: "at the heart of [this] was the concept of government as a single organisation ... the idea of "joined up government taken to its logical conclusion".

In stark contrast to the Whitehall civil servants who were criticised recently by a Parliamentary Committee for lack of inertia and flexibility, the Elvidge paper praises the civil servants in Scotland for the role they played in the reforms. "As well as providing essential continuity of understanding about the processes of government, it has displayed agility and energy in assisting the adaptation of that understanding to fresh challenges," he said.

He says the model of Scottish government structure reforms was based on "an explicit rejection of departmentalism as a basis for effective government and involves the abolition of a departmental structure within the Scottish government."

"In partnership between civil service and political leadership, a radical Scottish model of government has developed since 2007, building on the learning from the earlier period of devolution. It is based on the effort to have government function as a single organisation, working towards a single defined government purpose based on outcomes, and establishing a partnership based on that purpose with the rest of the public sector which is capable of being joined by other parts of civil society," he wrote. "It places strategic leadership and the facilitation of co-operation between organisations and sections of society at the heart of the role of central government, rather than a managerialist view of the relationship of central government to others."

The former top civil servant in Scotland highlighted the role played by the Scottish public leadership forum, which brings together all Scottish public sector leaders, in ensuring the changes were not just limited to Edinburgh. He argues "my central proposition is that we are making less use than we could and should within the UK of the opportunities for transferable learning from the experience of devolution."

Lord Adonis, the former Labour Cabinet Minister and now the Director of the IfG echoed his thoughts and said the Scottish model does offer a successful alternative and it's time for Whitehall to "wake up to the changes" north of the border in Scotland.
I can only echo that alarm call. Wake up, Carwyn. If you swallow your pride for long enough to read what has happened in another devolved administration, or take any pride in the idea of a similar "common national purpose" for Wales, you might learn about some practical ways to implement what you said you wanted to do in your party's manifesto.
It appears to me that this is exactly what we in Wales need. Not just as an effective way of implementing policy, but a more efficient way of doing it.
It is also worth pointing out that Scotland does not have a separate Civil Service (although Northern Ireland does) but shares a common Home Civil Service with us in Wales and with Whitehall. So implementing changes of this sort does not require any constitutional change, and therefore is in line with your manifesto commitment. It just requires reorganization to move away from the departmental rivalries and entrenched interests that characterize the way Whitehall works. Make no mistake, we in Plaid Cymru would want to go further, but this would be a very big step in the right direction.
And, in purely practical terms, this model was set up during a period of a minority Scottish government. Therefore these ways of working will be particularly appropriate for the difficulties your current minority government is inevitably going to face in Wales. So don't use the Civil Service as an excuse, Carwyn. Make it work for Wales in the same way as the SNP have made it work for Scotland. If you're prepared to get into the thick of it, you'll certainly have cross-party support from Plaid Cymru.