I was pleased to see a story in the Western Mail today about the Vale of Glamorgan's plans to expand Welsh-medium education:
Council to act on language demand

The popularity of Welsh language schools has forced a South Wales council to launch starter primary schools in two separate areas to meet the growing demand. The Vale of Glamorgan council is launching what it has dubbed "seed" primary schools in areas where parents cannot access its existing five Welsh medium primaries.

Demand for Welsh medium education in the area has grown steadily over more than two decades and council leaders have now produced a strategy to increase the number of places to meet anticipated demand from September 2010 onwards.

He said a survey last summer of parents with children under the age of three showed that 26% were very likely to require a Welsh medium school place for their child. The survey showed that 44% of respondents believed that their children would benefit from a Welsh medium education.

Mr Jeffreys [said], "The survey highlights an unmet or latent demand for Welsh medium education due to the existing distribution of Welsh medium primary schools across the Vale and the travel distances involved."

The proposed Welsh medium strategy in the Vale involves:

• Building demountable seed schools in Barry and Llantwit Major and extend Ysgol Pen y Garth by September 2010

• in the longer term, depending on available funding, a new 420 place school is to be built in Barry to accommodate increased pupil numbers and relocate Ysgol Sant Baruc

• a new 210-place school in Llantwit Major including a new nursery

• the existing Ysgol Iolo Morgannwg to be replaced with a new 210-place school in Cowbridge

• Ysgol Pen y Garth, in Penarth, to be remodelled to increase pupil capacity from 350 to 420 places
Naturally I looked to see if I could find more detail, and found it here. It is the agenda for the Vale's Cabinet Meeting of 18 November 2009, and it includes links to three documents that are worth reading.

The survey
The most important factor in driving this increase in provision is the detailed survey of very young children due to start school in 2011 and 2012 (Appendix A). The headline figures are actually that 32% of parents would be likely (26% very likely and 6% fairly likely) to send their children to WM schools based on where schools are located at present, but that this would increase to 38% (the same 26% very likely, but double the number who would be fairly likely) if a WM school were available within two miles.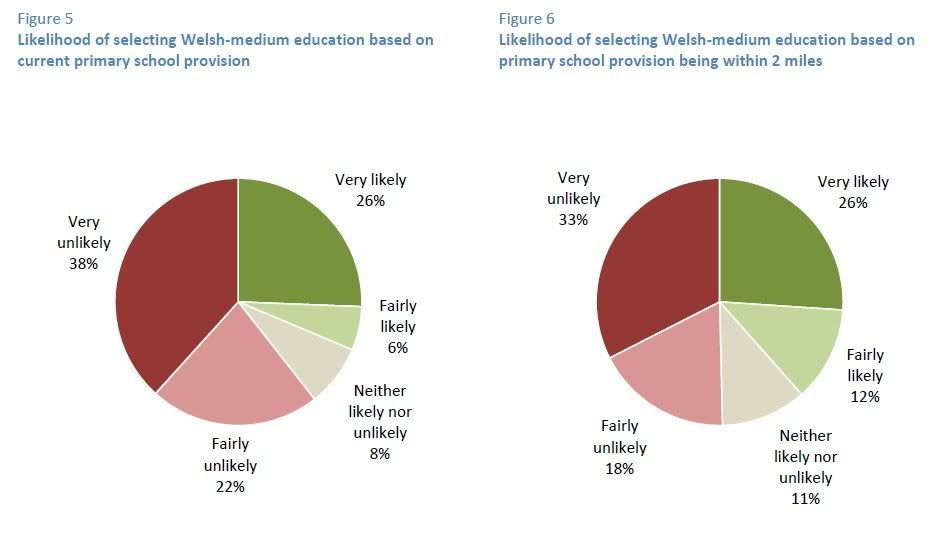 It should be noted that not everyone returned the survey, and the Council's working projection is therefore only for demands of 17.7% and 29.7% respectively. The current position is that only 11.7% of primary age children are in WM education so, even when the figures are downgraded to take account of non-respondents, there is still a very significant gap between supply and demand.
To the Vale of Glamorgan's credit (not that they have much choice, they're obliged to provide the type of schools parents want) they seem to have taken this on board ... although if they had done this sort of survey a few years ago, they wouldn't now be faced with a crisis. They have come up with some fairly straightforward proposals to address the problem. They divide the county into three areas, and examine to options and make proposals for each in Appendix C. Here is a map, click it for a larger version: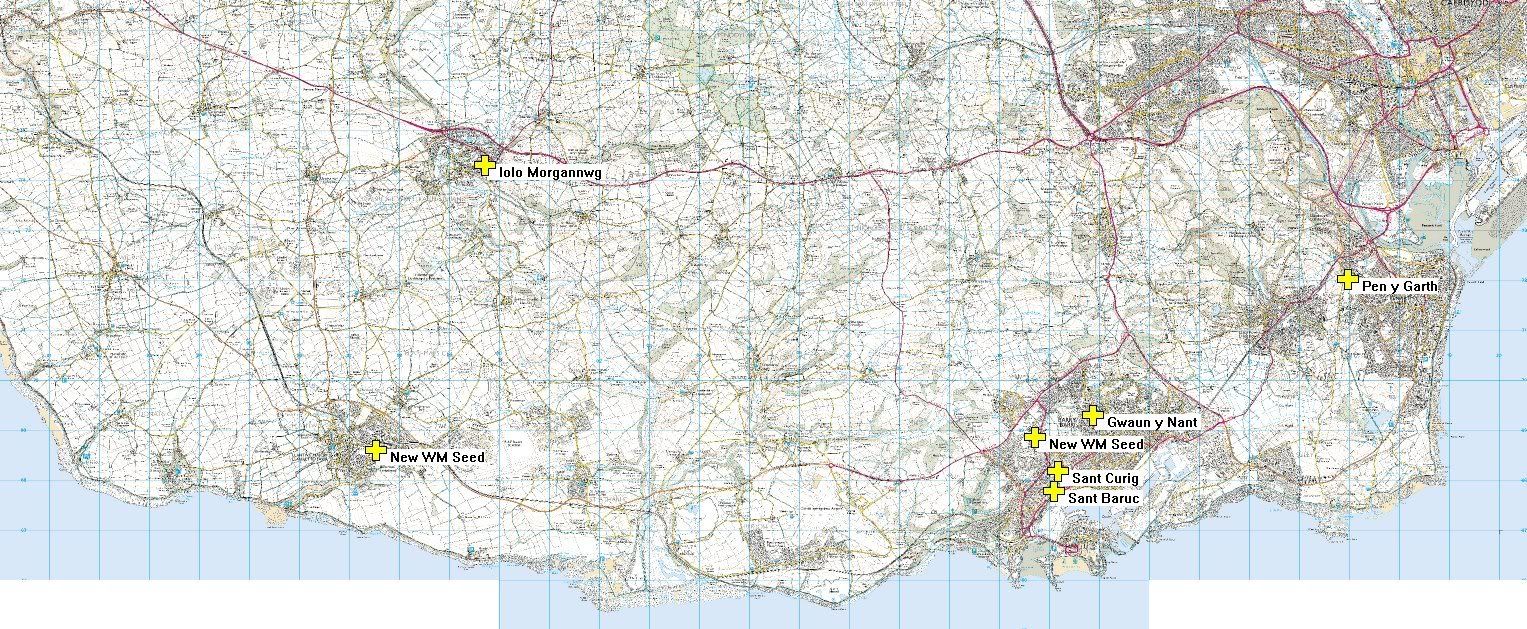 The Barry Area
There are already three WM schools in Barry. The two 1 form entry schools (Ysgol Sant Baruc and Ysgol Gwaun y Nant) can't be expanded. Ysgol Sant Curig is already a 2FE school, and it wouldn't be a good idea to make it any bigger. So the only reasonable option is a new school. So far so good.
However, what is being proposed is a "seed school" which is, to put it bluntly, just a set of portacabins. In other words it can only be a temporary solution. To be fair, VoG recognize this, and in the long term plan to replace Ysgol Sant Baruc with a new 2FE school.
My only comment is that the direction of parental demand is obvious, so it would make sense to start planning for that new school now. As it would take a year or two to design and build any new school, I'd suggest that a decision has to be taken within the next twelve months.

Rural Vale
At present there is only one WM school to cover the whole rural Vale area, Ysgol Iolo Morgannwg, and this is too small. In the rural Vale the biggest factor is travel distance, so the obvious choice is to set up a new school in the next biggest centre outside Cowbridge namely Llanilltud Fawr (Llantwit Major). That's a no-brainer.
Again VoG are proposing a seed school, but this time don't mention any plans to build a new school in the agenda, although a new 210 place school is mentioned in the Western Mail report. That needs a bit more research.
I would imagine that VoG are waiting to see what decision is going to be made on the expansion of the military base at nearby Sain Tathan. If it does get the green light the population of the area would rise and that would justify building a new school. It could either be the new WM school, or it could be new premises for one of the EM schools, leaving the "seed school" school free to take over their old building.

Penarth and Dinas Powys
At present there is one WM school, Pen y Garth, located in the north west of the town relatively close to Dinas Powys. It is a 1.5FE school and the proposal is to add two permanent classrooms to make if a 2FE school.
Although I don't entirely object to this proposal (because it does at least address the capacity issue) I think this is the weakest part of the VoG plan, because it doesn't actually improve travel distances for any child, and therefore fails to take account of the increased numbers of parents who would sent their children to a WM school if one was available more locally. The official catchment area of the school extends as far as Sully. To my mind it would be much better to put another "seed school" in Lower Penarth, which is only just within the two mile circle from Pen y Garth and which would draw children equally from Lower Penarth and Sully. That would, in the short term, mean that the £440,000 needed for the permanent extension need not be spent, and that money could instead be used for a new "seed school". If that seed school fills quickly, it would result in surplus space in EM schools which might make it possible for one of them to become a WM school without having to pay for a new building.

In conclusion
I suppose two out of three isn't that bad. The package is generally very welcome news, even though it has come a good few years later than it should have. The critical factor has been to conduct a proper survey of what the parents of very young children want. This is something that Plaid has urging every council to do for years, and it is now likely to become a requirement for all councils to conduct them.
Surveys of this sort have been done in Newport, Wrexham, Swansea, Caerffili and Torfaen as well as now in the Vale of Glamorgan. Without exception they have shown the actual demand to be at least twice as great as the current provision, often more. The inescapable conclusion is that neighbouring councils are not providing sufficient WM places to meet parental demand either, and that they have avoided conducting these surveys because it would be too much hassle for them to change the status quo. Or, to put it even more bluntly, if they simply refuse to find out what the demand actually is, they think they will be under no obligation to provide for it.
That's a game that some local authorities have played for far too long.