I've just read this bizarre film preview in the Guardian. Here are a couple of quotes from it:
When I was a kid, I used to watch this guy on television wearing a cape, riding a horse, and singing Welsh in a strange accent. I asked my grandmother who he was and she said, "That's your uncle."
"It's remarkable that I can play a gig of Welsh language songs in South America and they understand what I'm singing about, even if they find the music a bit suspect," says Rhys, failing to mention that he performed much of it in a red spaceman's helmet while singing into an orange plastic cup.
These are the words of Gruff Rhys, of the Super Furry Animals ... and this is a still from the film, just to give some idea of what he failed to mention: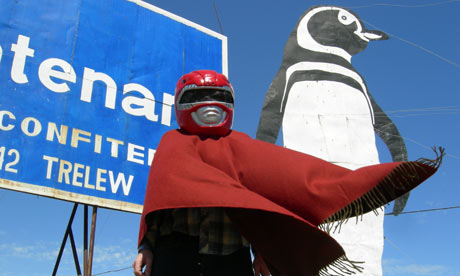 I guess we'll have to imagine the orange plastic cup.
It confirms what we all know: Wales is the strangest of places ... though we seem to have exported it with remarkable success.
If you think—using the words of another of our exports—that it's not unusual, Separado gets its first showing in Cineworld, Cardiff on 19 November. There might be some tickets left.