A guest post by Penddu
I have been giving some thought as to what the Assembly elections might look like if they were conducted using STV with multi-member constituencies or Districts. Using the figures from the Boundary Commission for Wales latest (2003) reports, Wales has an electorate of 2,225,605 which, assuming the existing total of 60 AMs, means that each AM would need to represent 37,093 voters.
Rather than base new Districts on existing constituencies, I have used the Counties as a basis, as the public usually has a clearer affinity to these. I have aimed to create 4 member or 5 member districts representing a total electorate of 148,373 or 185,547 respectively. But I have also created a number of smaller 3 member districts and one 6 member distict where these seem to be more obvious. A first rough pass gives: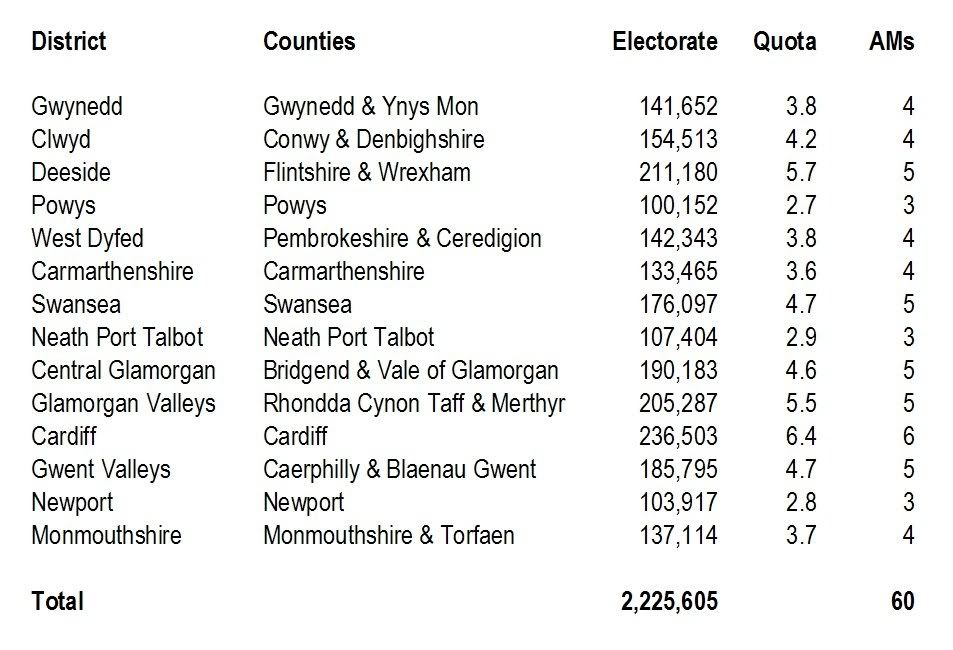 This map shows the initial boundaries, but these would need further local adjustments so as to even up the sizes of the constituencies.
But how would the parties be distributed within each seat?
Taking Cardiff as an example, the combined votes in the 2007 Assembly election would give:
Labour ... 35,802
Conservative ... 32,414
Liberal Democrat ... 25,282
Plaid Cymru ... 13,890
UKIP ... 2,308

Total ... 107,388
The first step is to calculate the qualifying quota - calculated by dividing the total number of votes by the number of seats plus 1 - giving:
Quota = (107,388/(6+1))+1 = 15,342
For every 15,342 votes as first preference, each party would win 1 seat, with remaining unused votes counted:
Labour ... 2 Seats ... remainder 5,118 votes
Conservative ... 2 Seats ... remainder 1,730 votes
Liberal Democrat ... 1 Seat ... remainder 9,940 votes
Plaid Cymru ... No Seats ... remainder 13,890 votes
UKIP ... No Seats ... remainder 2,308 votes
The remaining smallest party is then eliminated and its votes reallocated to the stated second preference party and added to the remaining unused votes, until a party can achieve a quota. In this case, UKIP would be eliminated and its votes distibuted to the stated second preferences. Plaid would need to pick up 1,452 votes to win the 6th seat, otherwise they would be eliminated and their votes redistributed. In this case it would probably give the Liberal Democrats the final seat but with STV encouraging smaller parties like the Greens to enter candidates, and people more likley to vote for their first choice party without fear of it being a wasted vote, the voting patterns become far more tactical, and difficult to predict.
Overall I predict that if the 2007 elections had been based on STV, then seats would "probably" have been distributed:
I have had to make some assumptions about second and third preference votes to get to these figures and, more importantly, electors may vote differently if there is more chance of their vote being counted. Neither am I suggesting that this would be the result if the election was held today.