I trust some of you will remember this post in which I talked about how one town in Catalunya had set up a referendum on independence in spite of the fact that Spain was using all sorts of constitutional tricks to deny Catalans a vote on the issue.
Some people will have noticed that I have a feed from Nationalia on my blog list, and this has just flagged up the latest news on how a large number of communities in Catalunya are going to do the same thing en masse on 13 December this year, and how international observers will monitor the vote to ensure that it is fair. I had thought that it would be remarkable if fifty or a hundred communities did so, but 130 is a huge number, above all expectations.
For those of us who are interested there's a dedicated website which, thanks to Google Translate, we can read by clicking this picture: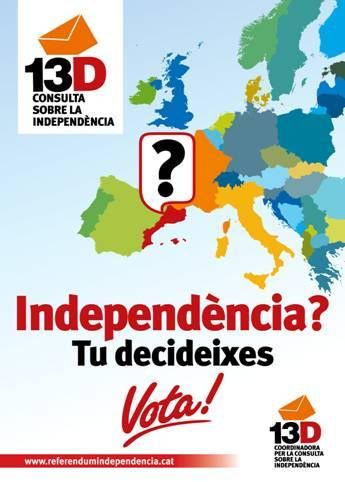 OK, if that didn't work for you, try this instead.
It goes without saying that this could be one of the most momentous and significant days for stateless nations in Europe. Yes, a large majority of those who don't want independence are likely to simply boycott the vote, and it will not be officially binding on the Spanish State. But if the result is anywhere near similar to that in Arenys de Munt in September (96.2% in favour on a 41% turnout) it will become all but impossible for the Spanish to continue to deny Catalunya an official referendum.
It will also mean that the EU has to seriously consider how it would accommodate an independent Catalunya ... and that will pave the way for "internal enlargement" (to use the jargon) for countries such as Wales, Scotland, Euskadi, and Flanders to follow if and when a majority of people in these nations vote for it.