I have to say that I was a little surprised by the way that Leanne focused on UKIP at Plaid Cymru's spring conference last weekend. It goes without saying that UKIP is a party which fully deserves criticism for its anti-EU and anti-immigration policies, but I wondered why we would want to single them out for criticism.
Fairly obviously, the context for Leanne's concern is the European Parliament election which is now only a couple of months away on 22 May. The last European election was in 2009 and, as a reminder, these were the results for Wales:
Conservative ... 21.2%
Labour ... 20.3%
Plaid Cymru ... 18.5%
UKIP ... 12.8%
LibDems ... 10.7%
Greens ... 5.6%
It seems hard to believe that Labour could do quite so badly in any election in Wales, but these were the dire days immediately following the 2008 banking collapse, and the Labour government in Westminster was all but dead on its feet.
Now, after nearly four years of the Tories and LibDems in power at Westminster, and with UKIP playing a political tune that both the Tories and Labour seem more than willing to dance to, the polls are indicating a very different result. This is from the YouGov ITV Wales political barometer, with the changes from the December poll in brackets:
Labour ... 39% (-2%)
UKIP ... 18% (+5%)
Conservative ... 17% (-3%)
Plaid Cymru ... 12% (-1%)
LibDems ... 7% (-5%)
If this poll is anywhere near accurate, then the chances of Jill Evans retaining her seat look very bleak. This is how the seats would be distributed:
First seat ... Labour ... 39%
Second seat ... Labour ... 19.5%
Third seat ... UKIP ... 18%
Fourth seat ... Conservative ... 17%

Notional fifth seat ... Labour ... 13%
Notional sixth seat ... Plaid Cymru ... 12%
Notional seventh seat ... Labour ... 9.75%
Notional eighth seat ... UKIP ... 9%
Notional ninth seat ... Conservative ... 8.5%
Notional tenth seat ... Labour ... 7.8%
Notional eleventh seat ... LibDems ... 7%
There are, of course, only four Welsh seats available, but I've gone down the list to show how the voting system works. We in Plaid might comfort ourselves by thinking we are fourth in the polls and are therefore in with a shout for the fourth seat, and the LibDems might comfort themselves by saying they are fifth. But for the LibDems it is such a poor fifth place that they would only win a seat if Wales had eleven seats, and Plaid would only win a seat if Wales had six seats.
So in practical terms we can forget about the LibDems because they don't stand any chance of winning a seat. However there is a chance that Plaid can hold onto a seat, but only if we understand what we need to do to win and, in particular, where to target our attack.
-
The overall picture is that Labour are way out in front, and there is probably very little that will prevent them from easily topping the poll in Wales. There is also very little doubt that Plaid are not doing too well in the polls, for both UKIP and the Tories are ahead of us. In order to hold on to our seat, we must therefore do two things:
Ensure that Labour don't get more than three times as many votes as Plaid
Get more votes than either the Tories or UKIP
The first is not so big an ask. At 12%, Plaid are only marginally short of a third of Labour's share of the vote at 39%. We only have to up our share of the vote by a couple of percentage points to do it.
But the second is more problematic. It involves making the right tactical judgement about whether we need to beat the Tories or UKIP. In my opinion we should be aiming to beat the Tories rather than UKIP.
We should be under no illusion about UKIP's popularity. They are doing better in the polls than they have ever done before, and they always do better in European elections than they do in any other elections. For what it's worth, I think that UKIP are quite likely to top the poll in England, although I think they might fall short of topping the poll in the UK as a whole. Compared with the December poll, UKIP are already up 5% points ... and I think that rise will continue. When Nigel Farage has his big TV showdown with Nick Clegg on 2 April, is anyone in any doubt who will come out on top? Not even the Guardian is in any doubt about it. That's not because Farage will win the argument, but because UKIP have only two, simple points to make (anti-EU and anti-immigration) and he will just hammer them home relentlessly.
Plaid's tacticians therefore need to make this judgement. If UKIP's popularity is on the rise, then it is the Tories that we should be turning our fire on, not UKIP. At present, we seem to be focusing our attack on the wrong target.
-
To put things into perspective, we need to understand where UKIP's vote comes from. Helpfully, YouGov have just conducted a poll to ask this very question. The details are here, but in general those who are most likely to vote UKIP are very or fairly right wing, working class Tories, men over 60, and readers of the Daily Express or Daily Mail. No big surprise.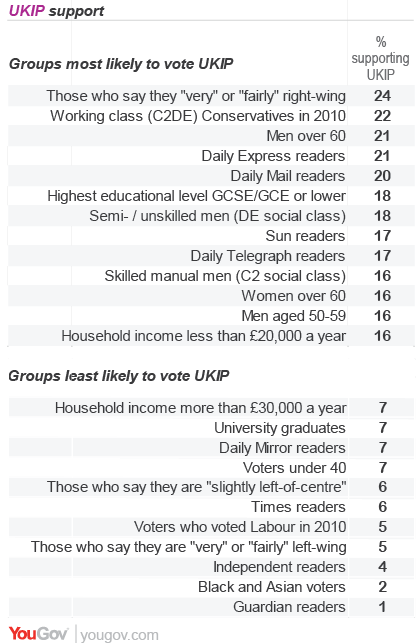 In terms of previous political affiliation, UKIP draw the majority of their new support from those who used to vote Tory. Disaffected Tory defectors to UKIP outnumber LibDem defectors by three to one, and Labour defectors by four to one.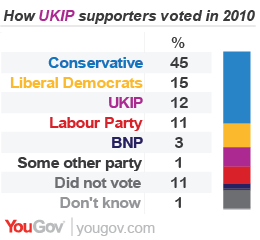 These figures are important for this reason. Let's assume that potential UKIP voters take notice of Plaid's attack and decide to change their vote in May because of it. Who will they vote for instead? Very clearly, most of them will vote Tory. People primarily vote for UKIP because they are strongly anti-EU, so if they don't vote UKIP most of them will probably vote for the party that is the next most Euro-sceptic ... the Tories. But it is the Tories that we need to beat for Jill Evans to retain her seat. Therefore concentrating our attack on UKIP is in fact counterproductive. We can see this from the February Political Barometer: UKIP have risen 5% points since December, and that increase was primarily at the expense of the Tories, who lost 3% points.
As I see it, this is the sort of result we should be looking for:
Labour ... 36%
UKIP ... 23%
Plaid Cymru ... 15%
Conservative ... 14%
LibDems ... 6%

First seat ... Labour ... 36%
Second seat ... UKIP ... 23%
Third seat ... Labour ... 18%
Fourth seat ... Plaid Cymru ... 15%

Notional fifth seat ... Conservative ... 14%
This simply requires the same 5% point increase in UKIP's share of the vote as we have seen since December, coupled with the same 3% fall in the Tory share of the vote in the same period. All we then need to do is pick up a few percentage points on our own merits to just beat the Tories to the fourth seat. It's tight, but it can be done.
If it seems unlikely that the Tories should slip from topping the poll in Wales 2009 with 21.2% to losing their seat only five years later, the explanation is almost entirely to do with who is in power at Westminster. Labour, with Gordon Brown as Prime Minister and with an economy in freefall, were terribly unpopular in 2009 ... and a good part of the Labour-Tory floating vote went to the Tories as part of the normal Labour-Tory swing. Now the pendulum has swung the other way and the Tories (with their LibDem little helpers) are unpopular after four years of austerity for the poor and tax breaks for the well off. So of course the Tories are likely to lose support in Wales.
-
To be clear, I'm certainly not saying that Leanne was wrong to attack UKIP last weekend. UKIP's policies are diametrically opposite to those of Plaid, so of course we need to speak out against them. But what surprised me was that we should focus an attack on UKIP, but not put anywhere near the same effort into attacking Labour and, especially, the Tories.
With Labour so far out in front and all but guaranteed to win two seats in May, we need to beat either the Tories or UKIP in order for Jill to keep her seat. In this particular election there is no doubt that UKIP will do better than the Tories ... even in Wales. It therefore makes more tactical sense to concentrate our attack to pick off the weaker party rather than the stronger one.