I'm pleased to announce that Huw Lewis has stepped onto centre stage to pose for the next poster in the campaign to highlight just how well Labour has been "standing up for Wales".
Postcard | Hi-res image | PDF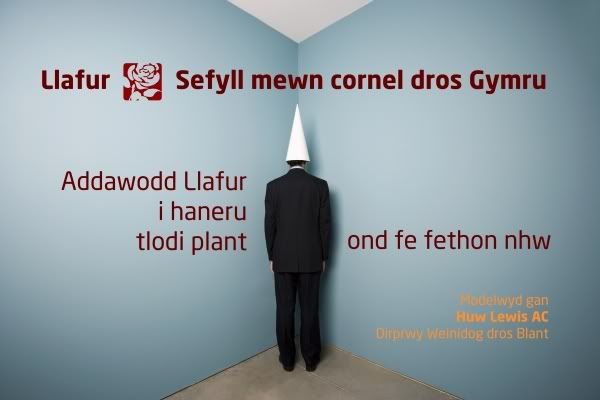 Cerdyn post | Delwedd safon uwch | PDF

By any standard, the failure to cut child poverty levels has been the worst of all Labour's failures. A party that used to pride itself on standing up for those who are less well off conveniently managed to forget all those values when in power. Instead it pandered to the rich, allowed (in fact encouraged) its new friends in big business and the financial institutions to become even more filthy rich, and hoped against hope that some of this money would somehow trickle down to the less well off in our communities.

But their blind trust in the free market economy—and of course they made it more free by not adequately regulating the financial institutions—not only failed to make an impact on child poverty before the credit crash, but brought us all to the brink of ruin when the results of that failure to regulate hit home.

-

So why is Huw Lewis in the spotlight for this? Dear old Screwloose is a good example of someone whose heart is probably in the right place. There are all sorts of things we can do to alleviate the worst effects of poverty for children in Wales. But the bottom line is that poverty is a matter of money. It is a question of how we as a society create wealth and how we distribute that wealth fairly.

Labour have done nothing for Wales in that respect. Relative to the rest of the UK Wales is progressively getting even poorer, and no amount of spending money on special programmes or placing new responsibilities on local authorities and other bodies is going to do any more than make a small dent in the problem. To make a real difference we must also take the levers that control the Welsh economy into our own hands.

But Welsh Labour are absolutely terrified of taking any sort of responsibility for things like taxation and the benefits system in Wales. This is all the more surprising because having an Assembly with taxation powers has consistently been the most popular model of governance in the annual St David's day poll [see here], and because 60% of people in Wales think that the Welsh Government should have control over the benefits system, with only 23% thinking it should remain in the hands of the UK government [see here].

-

There's only one conclusion we can draw from this: Labour are great at spending money on programmes, but are absolutely clueless when it comes to turning Wales into a more prosperous country. It is only by taking the levers of the economy into our own hands that we will have any hope of putting an end to child poverty in Wales.