Many politicians would cut off one of their body parts to win the support of one of Rupert Murdoch's papers. I'm not sure whether Alex Salmond has gone that far, but the Scottish Sun has today backed him as its choice to remain First Minister of Scotland.
I would simply let the paper do a complete U turn on its policy for the election in 2007. Whether they support him or not is entirely up to them, and I would advise Salmond to keep his distance and "treat those two impostors just the same".
After all, the Sun's condemnation did not stop him becoming First Minister in 2007, so will the same paper's support now really make a difference? It's probably better to conclude that the Sun is following public opinion rather than forming it.
But then why has Alex Salmond allowed himself to be pictured holding the paper? I think it's a mistake. It implies that he is in thrall to the Scottish Sun rather than the other way round. It makes him appear as ridiculous as Lembit Öpik did in his flirtation with the Daily Sport.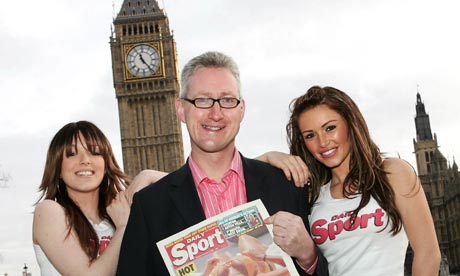 Who knows, this might have the effect of reducing rather than enhancing the SNP's prospects ... and who knows, this might be exactly what Murdoch intended.