Last week, the excellent BlogMenai drew our attention to a rather strange advertisement, with a warning about the dangers of that sort of personality politics. The Western Mail picked up on the story today, including Labour's reaction to it.
Mystery group targets Labour vote in Wales

... A Welsh Labour spokesman said: "We don't comment on anonymous allegations. This is clearly a nationalist smear campaign. Why else would they be encouraging people to vote Plaid in Conservative-held Carmarthen West, where Labour's Christine Gwyther is the only serious challenger?"
This is the advertisement in question: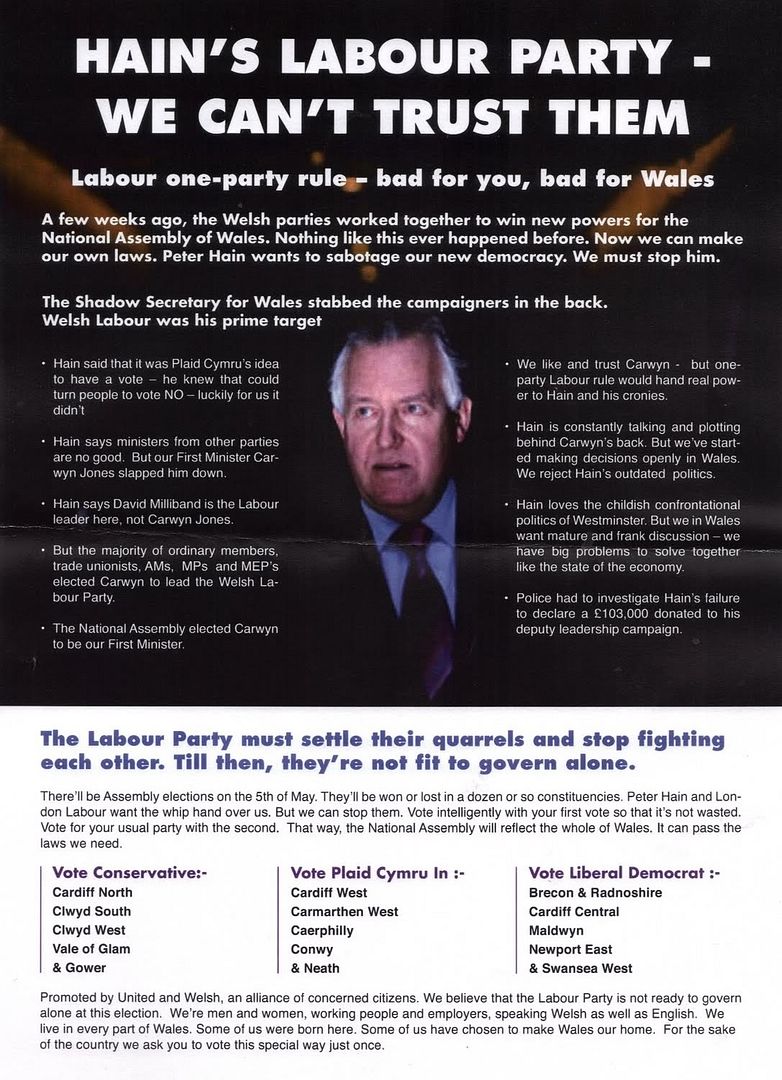 As we can see, even though the advertisement urges people to vote Plaid Cymru in Cardiff West, Carmarthen West, Caerffili, Conwy and Neath, it also urges people to vote Tory in Cardiff North, Clwyd South, Clwyd West, the Vale of Glamorgan and Gower ... and even LibDem in Brecon and Radnorshire, Cardiff Central, Maldwyn, Newport East and Swansea West.
Yet isn't it just a little strange that the Labour Party only managed to pick up on one constituency and one party? Why pick on Plaid Cymru? The hapless Labour Party spokesman could just as easily have said that it was "clearly a Tory smear campaign" or "clearly a LibDem smear campaign".
-
But this does prove one thing. The definition of paranoia is when you think everybody's out to get you. Labour clearly can't be in that category ... they're only afraid that Plaid are out to get them.