As we have just embarked on the start of a new school year, I thought it would be good to celebrate the extension of Welsh-medium education, as a number of new schools have either opened or moved to larger premises.

Ysgol Bro Helyg, Blaenau Gwent
Pride of place this year goes to a brand new school at Nantyglo/Blaina, built to replace the appallingly bad accommodation that Ysgol Brynmawr has had to put up with until now. The appallingly bad pictures are the best the Council have to offer, it is much better in the flesh.
However this is still the only WM school in Blaenau Gwent, and its new location is such as to make it a few more miles remote from the major population centres in the county. It highlights, and in fact will increase, the need for new WM schools in Ebbw Vale and Tredegar. However, BG are still thinking terms of this being the only WM school in the county, as this quote from their website indicates:
A competition was held at the existing school, and pupils were invited to suggest possible names for the school. 30 entries were received, and after careful consideration, it was decided that the new school would be called "Ysgol Gymraeg Bro Helyg". Reasons for this choice are outlined below:

• the name makes reference to the roots of the existing school – the original name for the Brynmawr area being "Gwaun Helygen" – "Meadow of the Willows".

• "Bro" is Welsh for "area". The name therefore represents the whole catchment area of Blaenau Gwent, and not only the Brynmawr and Nantyglo areas.
So it looks like education officials at BG still have the same old intransigent attitude, and begs the question why it was only built as a 1.5 FE school with a capacity of 315, rather than as a 2FE school with a capacity of 420. The old Brynmawr school was at bursting point with 253 pupils, plus 50 in the nursery which is itself more than the admission number of 45 that this new school could accept. So even though this new building is very welcome, it will still be inadequate to meet demand.
Does anyone seriously think that Blaenau Gwent, with a population of 70,000, has such an unusually low concentration of parents wanting a WM education for their children, when Torfaen immediately to the east now has three WM Primaries for a population of 90,000 and Caerffili immediately to the west has nine WM Primaries for a population of 170,000?
Blaenau Gwent badly needs another couple of WM primaries: one in Ebbw Vale and one in Tredegar. I had hoped that an announcement about a second school in Ebbw Vale would be made last month at the Eisteddfod. Watch this space, I'll present a proposal I've got in mind soon.

Ysgol Panteg, Torfaen
Griffithstown Infants School has been amalgamated with the junior school on the junior school site, leaving its old building for use as a new WM school. These are some pictures: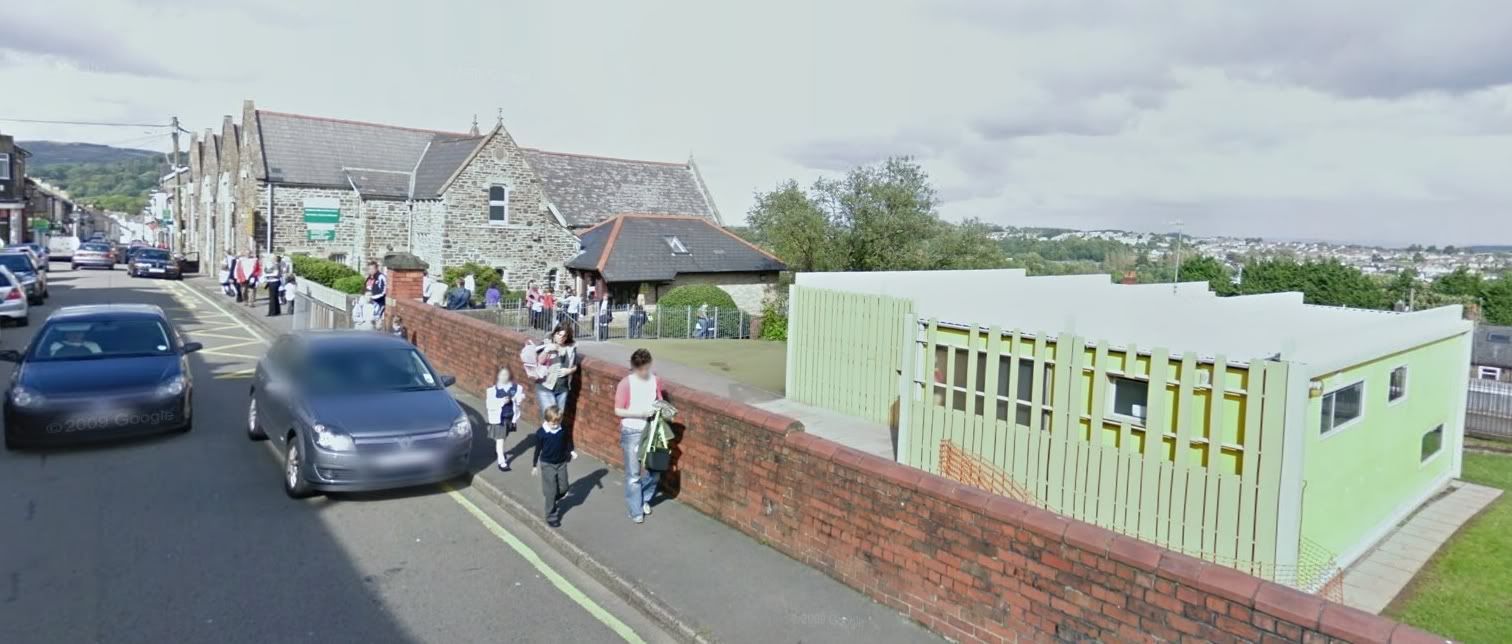 This is now the third WM primary in Torfaen, and although the school will only have room for about 150, this does represent a very welcome increase in capacity which Torfaen must be congratulated for providing. However it does need to be offset against Ysgol Bryn Onnen reducing its intake slightly in order to increase its own age range from 4-11 to 3-11.

Ysgol Nant Caerau, Cardiff
Caerau Infant School, Caerau Nursery School and Cwrt yr Ala Junior School have been amalgamated into a single English-medium primary school with nursery on the Cwrt yr Ala site. This frees the existing Caerau Infants and Nursery buildings to become the permanent home of a new WM primary called Ysgol Nant Caerau.

The previously established starter classes at the Holy Family RC Primary School have been transferred to these buildings, and this will enable the new school to expand to a one form entry school with a capacity of 210, plus nursery. There will be a transition period while some children in the EM sector continue to use part of the building.

Ysgol Pen y Pil, Cardiff
The pattern here is similar to Nant Caerau. Trowbridge Infants and Junior Schools have been amalgamated on the Junior School site, leaving the Infants School building to become a new WM primary.
In this case the starter classes at Oakfield Primary will transfer to the new school, which will also have a capacity of 210 children, plus nursery.
All in all Cardiff have responded in a half-decent way to the increase in demand, but there are still areas of the city where the demand for WM education is much greater than the places available: Canton being the most obvious example, with Whitchurch not so far behind. The proposal for a new WM secondary on the old St Teilo's CiW site is currently on Leighton Andrew's desk, but the funding package for it has already been approved.

Ysgol Rhyd y Grug, Merthyr Tudful
In this instance a brand new English-medium school has been built in Aberfan to replace Ynysowen Primary. This leaves the old Ynysowen building available for the existing small school to move from Quakers Yard to larger premises. There will be room for about 100 more children.
Yes, hand-me-downs aren't ideal, but they're better than "t'corridor" or a "small shoebox in middle't road" with no green space and a tiny playground half taken up by temporary classrooms. So the children who go there will in due course come to realize that this is more than "luxury", it's "paradise" ... as these veterans of Yorkshire-medium education can tell them in no uncertain terms.
These are the ones I know of, but if anyone can tell me of any more, please do. I would guess that on top of this there would be at least half a dozen WM schools that have had to bring in additional temporary accommodation over the summer.