On Friday, the Welsh Government published its first annual report on the Welsh-medium Education Strategy: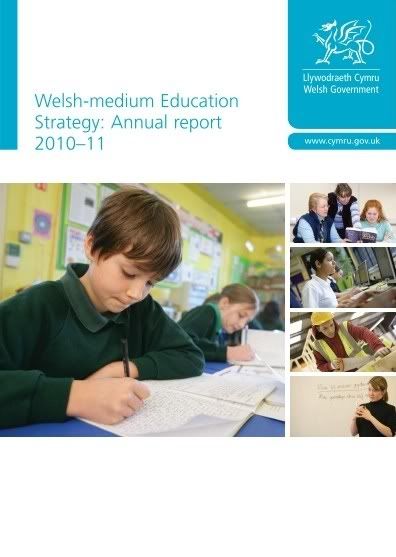 It was strange that nearly all the reports in the media focused on the fact that there was a target of 30% of seven year olds being taught in Welsh by 2020, almost as if this was some sort of surprise. But this target, and the intermediate target that the figure should be 25% by 2015, is nothing new. What is much more critical is how much progress has been made towards achieving the targets, and the annual report focuses on this.
Last week, in this post, I commented on the numbers that now attend Welsh-medium schools. The numbers in Welsh-medium (and dual stream and transitional) primary schools have risen by just 0.5%—from 23.06% to 23.56% in the past two years—and this rate of increase would be nowhere near enough to meet the target.
However the numbers in WM schools are not an exact reflection of the numbers that are educated in Welsh. A more accurate measure is the number that are assessed in Welsh as a first language, and this is the basis of the WMES targets. On this measure, it's encouraging to note that the percentage has risen much faster, from 21.0% in 2009 to 21.8% in 2010. If this rate of increase were to be maintained, the targets would probably be met.
Now of course the Welsh Government could point to this as evidence that good progress is being made, but I would sound a note of warning. The discrepancy between the percentage in WM education (23.56%) and those being assessed in Welsh as a first language (21.8%) is largely a result of the fact that a significant number of smaller, traditionally WM schools have had rather patchy WM provision. What appears to have happened is that these schools have inceased the number of assessments in Welsh as a first language, and it is this which accounts for the bulk of the 0.8% rise between 2009 and 2010.
But this is a "soft target", because it represents an improvement in what is happening within WM schools. It might well be possible to get every child in a WM school assessed in Welsh, but the numbers being assesed in Welsh can never realistically be greater than the numbers in WM schools. In other words there is a structural problem which can only be solved by increasing the number of WM places available, which in most local authorities will mean increasing the number of WM schools. Unless we concentrate on this, there will be no chance of us meeting the 25% target in 2015 or the 30% target in 2020. As the potential to build new schools has been severely curtailled as a result of the Welsh Government scrapping all the work done to date on the remainder of the 21st Century Schools project, there will be no choice other than to convert existing EM schools to WM in order to meet the targets. That is a bullet that must be bitten.
-
One other thing I found interesting in the report was this graph comparing the percentages being assessed in Welsh by local authority in 2000 and 2010:
Gold stars to Torfaen, Monmouthshire, Cardiff, Swansea and Pembrokeshire for some good increases. Swansea's increase is a surprise to me. Black marks to Neath Port Talbot and Wrecsam for managing to preside over falls rather than increases; and to places like Ynys Môn, Ceredigion, Fflintshire and Blaenau Gwent which have only marginally increased their provision.
As most of us will know, Blaenau Gwent has just been relieved of its responsibilities for its failure in education generally, and I can't help but think that its failure with regard to WM provision is symptomatic of its wider failings. But isn't transferring responsibility for education in Blaenau Gwent to a task force from Neath Port Talbot a case of the blind leading the blind?