In my previous post I looked at how we could create a direct rail link into Heathrow airport from south Wales and the west of England without going into London, as had been proposed by Mark Hopwood of First Great Western.
However as I gave the matter a little more thought, I realized that if the proposed HS2 link direct to Heathrow airport goes ahead, it would make the proposed GWML western link much more viable. Being me, the only thing to do was draw it up to see how it would work. Click the image for a larger version.
The GWML is in black, this is also the route of CrossRail west of Paddington. HS1 to St Pancras is in navy. HS2 from Euston to Birmingham and beyond is in red. The Heathrow Connect / Heathrow Express spur is in orange.
When it comes to how to link Heathrow to HS2, I have to say that there does not seem to be very much clear thinking about what we are doing this for. In particular, we definitely don't need a high speed rail link between London and Heathrow. It is a short journey that takes only 15 minutes from Paddington ... and with CrossRail, about half a dozen stations in London will be only about half an hour away. It is pointless paying money to build a high speed route in order to cut that journey by five minutes at most.
The main benefit of linking Heathrow to HS2 is for those who want to get to Heathrow from the north and west, because it cuts out a journey into London and back out again. Also, as HS2 is extended north, the idea will be to entice people away from making domestic fights to Heathrow to then fly onward to destinations only served by Heathrow and not by their regional airports.
So as things stand at present, the priority is to build a spur for trains to and from the north, although if this becomes a loop so much the better. The spur will be likely to come down the Colne Valley to Terminal 5, as shown in dark blue and light blue. If this happens, it will account for more than half of the western link to the GWML as proposed on the map below, leaving only the small section shown in green above. This will probably be only a third or a quarter of the cost, because it will not need to be tunnelled.

Yet as I thought about it more, an HS2 spur to Heathrow didn't really make much sense. The only people who could use it would be those who wanted to get to Heathrow. The more obvious solution would be to build the dark blue section, put in a chord (in pink) and go back to Arup's original suggestion of a Heathrow Hub on the GWML.
What would then happen is that some high speed trains from the north would go direct to Euston (or on to the continent) on the red route, but that others (maybe every third train) would turn off and stop at the Heathrow Hub, but then carry on to Euston on the upgraded GWML to Old Oak Common, where it would rejoin the HS2 main line. This would only add maybe five minutes to the journey, only a little more than the time taken by stopping at Heathrow anyway.
The second point is that the trains which stopped at the Heathrow Hub would not need to stop at Old Oak Common as well, they would simply rejoin the HS2 main line there. The purpose of Old Oak is to provide an "across the platform" interchange with CrossRail, but because the Heathrow Hub is also on CrossRail it would be unnecessary to stop at both. I imagine that most trains from the north terminating at Euston would stop at either Old Oak or Heathrow for across the platform interchange with CrossRail, because CrossRail offers a much wider range of stations in central London. Not only is that more convenient for passengers, but it takes some of the strain off Euston and its tube links.
-
I had thought that the Heathrow Hub was dead in the water because the route chose for the main HS2 line didn't go through it. But the "red/darkblue/pink/black/Old Oak/red" loop achieves everything that routing the main HS2 line through Heathrow would do, though at the small inconvenience of adding a few minutes to the journey. Trying to achieve a loop from HS2 to Heathrow any other way would be horrendous. It would either mean a journey of "red/darkblue/lightblue/orange/black/OldOak/red" or some even more expensive tunneling.
But we need to remember that the Heathrow Hub is more than just a place that high speed and intercity trains stop. It will be one location on an internal transport system for Heathrow that will include all the terminals, car parks, rail and bus stations and hotels, as shown in diagrammatic form below. It will be an expensive project, and could only be justified by the HS2 and GWML passenger numbers combined, not by the GWML on its own.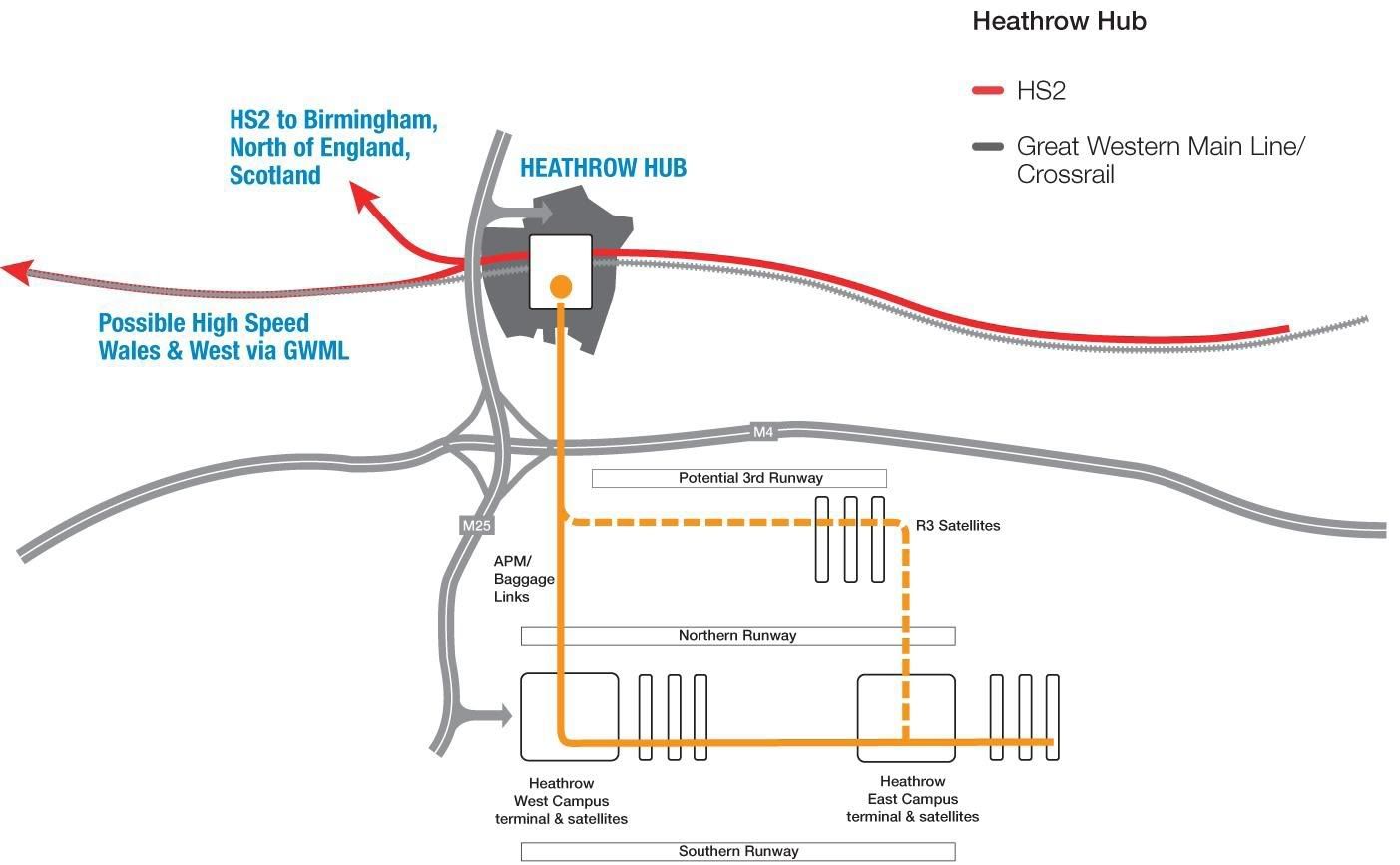 So where does this leave Wales? Two choices. If the Heathrow Hub is built, then there will be little need for the GWML western link. Most trains (although I imagine there will be some that don't stop) from South Wales to Paddington would also stop at the Heathrow Hub. This stop would serve three groups of people:
• those wanting the airport
• those wanting to cross the platform to CrossRail (for a wider range of destinations in London without having to use the tube)
• those wanting to travel to the continent on HS2/HS1
However, if the Heathrow Hub is not built there will be the HS2 spur to T5 instead, and it would be simple and comparatively cheap to build the green link. Some trains from south Wales to Paddington could then travel on the "black/green/lightblue/orange/black" loop, but only some, as this would add at least 15 minutes to the journey. I would imagine one train every two hours doing that, however other trains would stop at Reading (or maybe Maidenhead or Slough) where there would be an across the platform interchange with the one train every two hours from places like Oxford, Bristol and Exeter which makes a similar diversion. Plus maybe the Crossrail service.
One way or the other, we would get a direct rail service from south Wales to Heathrow.