Having just posted about reinstating disused rail routes in Wales, I thought I'd check out what was happening on the west coast of Ireland, where there have been plans to reopen the route between Limerick and Sligo—the Western Rail Corridor—for some years. In 2005 it was included as part of a comprehensive €34bn transport infrastructure programme called Transport 21.
Serendipity was smiling. I found that the first part of the route has just been completed, and that the first direct service from Limerick to Galway ran just before Easter. The article in the Irish Times is here and this is the news item from TV3 on 29 March:
And I also found this 25 minute video of a programme from March last year called EcoEye, which should give some idea of the overall scope of the project, and even how it might be extended:
But for those who'd prefer to read about it, there's a Wiki article about the WRC here and a lot more information on the West on Track website here.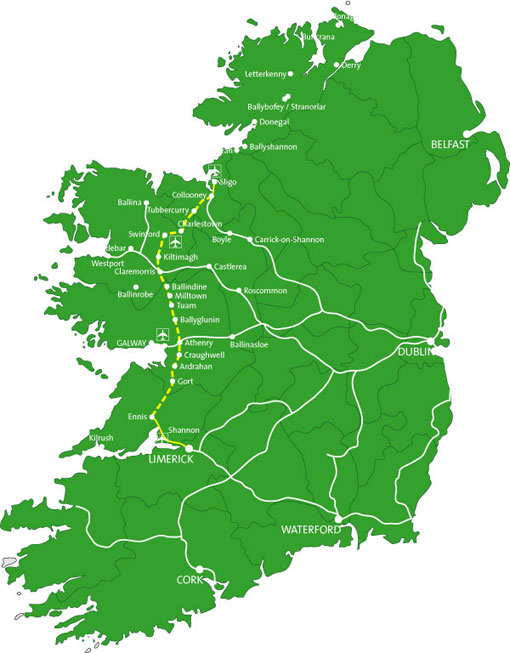 First, I don't think anybody could fail to be struck by the similarities between western Ireland and the western half of Wales. In the not too past Ireland, like Wales, had railways that ran north-south, but these were abandoned several decades ago, so now there is a rail network that radiates from Dublin in the same way as the British network radiates from London, leaving relatively good east-west links by rail, but nothing running in a north-south direction.
The second thing to note is that re-instating this railway will bring significant benefits to the area – both in terms of expanding the economy and in terms of environmental benefits to a predominantly rural area. That same argument must surely hold true for the western half of Wales as it does for western Ireland.
The third thing I would note is that the cost of reinstating the rail link has been extraordinarily low. The sections of rail from Limerick to Ennis and Galway to Athenry already exist, so this first stage involved reinstating 58km (36 miles) of track at a cost of €106.5m (£93m) including four new stations and associated works:
• renewal of 36 miles of track, including all necessary fencing and drainage and installation of points and crossings at Gort and Ennis

• a 90m platform with furniture, signage, shelter, Automatic Ticket Vending Machine, lighting, car park, PA, Customer Information Systems, help point and CCTV provision at Sixmilebridge, Gort, Ardrahan and Craughwell. These stations will also be accessible to the mobility impaired

• At Ennis and Athenry stations, PA, Customer Information Systems, help point and CCTV has been provided

• Repair and improvement work has been undertaken on bridges on the route to allow rail services to operate:
- modernised signalling systems
- improvement to level crossings, and elimination where practicable
That works out at £1.6m per km or £2.6m per mile. To put that into perspective, the same sum of money wouldn't build more than three or four miles of motorway ... probably even less. The thankfully aborted M4 relief motorway would have cost £1bn, which worked out at £45m per km or £70m per mile.
-
Yet there are some things about what has been done in Ireland that cause me concern. First is the low speeds. It takes two hours to make the journey between Limerick and Galway but, on a clear road, the car journey would take 90 minutes. Although the track was already there, most of it had to be taken up and relaid, I would have thought that would be an opportunity to iron out some of the slower sections. But Irish railways are not particularly fast anyway, the train from Dublin to Galway takes about 2hr40m to cover 208km. That's only about 80km/h or 50mph. When we reinstate our railways, we should spend more to get a higher standard of track capable of supporting faster speeds.
There are some very wide variations in predicted passenger numbers. The video reports pointed to about 300,000 a year, but this report in the Irish Independent put the figure at only a third of that, meaning that the service would run at a €2.4m a year loss. As the service has only been running for a week, it's much too early to tell. However one encouraging sign is that Iarnród Éireann have upgraded the train from a two car to a four car unit, as reported here. As I mentioned in this post, other rail reinstatements have attracted many more passengers than were originally predicted.
-
My main reason for reporting this is to give us in Wales an idea of not only what can, but what is being achieved in a country that is very similar to our own. To look forward to the day when our own Minister of Transport can ride on the first train in fifty years to link Porthmadog to Blaenau Ffestiniog or Bangor, or Carmarthen to Aberystwyth.
In total, the WRC in Ireland is or 185km (115 miles) in length. The length of track it would be necessary to reinstate for us to get a west coast main line is 89km (56 miles) between Carmarthen and Aberystwyth, plus either 40km (25 miles) between the Cambrian Coast line and Pont Britannia or 18km (11 miles) between it and Blaenau Ffestiniog, although part of the second would be new rather than reinstated. So it's a smaller project, but just as important for just the same reasons.
-
Even though it is election time, I don't want to be overly political about this since the project in Ireland had support from across the political spectrum, although the more right wing Fine Gael seem to be lukewarm about future phases now. I would like to think that all parties in Wales could unite around a reinstated west coast main line for Wales ... but at the moment it seems that it isn't even on the radar of the other parties.
So much of this election seems to be about two parties making a big deal over what are really just minor variations on the same overall policies. On transport, for example, both the Tories and Labour are going to spend £16bn on a high speed line to Birmingham and more on extending it to Manchester and Leeds. The only difference between them is the exact route. If that sort of money can be spent by a UK government entirely in England, who else but Plaid is going to fight for our share of transport investment in Wales? Who else but Plaid has the vision to plan for it? We pay our taxes too, and our fair share of £16bn is 5% or £800m. A west coast main line for Wales would cost much, much less than that.