Continuing the trend set in 2009 and 2010, I want to look at today's GCSE results to see what they can tell us about how Welsh is being taught in our schools.
There are three different types of Welsh GCSE: Welsh First Language, Welsh Second Language (full course) and Welsh Second Language (short course). However a substantial number of Year 11 students, even though they study Welsh, still do not take any Welsh GCSE. The number of entries for each can therefore be used as one indicator of the state of Welsh teaching in our schools.
Unfortunately, the StatsWales figures which would show the number of 15 year old students have not yet been officially published. However the provisional figure they gave me is 34,815 for maintained schools, and it is relatively easy to adjust for the extra students in independent schools based on last years' number. In total there is a fall of just over 1,000, which is in line with the demographic trend of the past few years. The number of entries needs to be set in this context.
Total number of Year 11 students at start of year
36,065 (was 37,072) ... down 1,007

Welsh First Language
5,291 entries (14.67% of year) ... was 5,444 (14.68%) ... down 153 (down 0.01%)

Welsh Second Language (full course)
9,999 entries (27.72% of year) ... was 10,304 (27.79%) ... down 305 (down 0.07%)

Welsh Second Language (short course)
12,784 entries (35.45% of year) ... was 12,485 (33.68%) ... up 299 (up 1.77%)

Total Welsh Entries
28,074 entries (77.84% of year) ... was 28,233 (76.16%) ... down 159 (up 1.68%)

Number who did not take any Welsh GCSE
7,991 (22.16% of year) ... was 8,839 (23.84% of year) ... down 848 (down 1.68%)
In numerical terms, the decrease in the number of WSL full course entries is almost exactly matched by the increase in the number of WSL short course entries—300 in round numbers—and I'm willing to bet that someone will describe this as evidence of a switch from the full course to the short course and therefore as a retrograde step. But that isn't true.
In percentage terms, the WFL and WSL full course entries remain virtually unchanged; but the number of WSL short course entries has gone up, showing that both the number and percentage of students who weren't taking any form of GCSE in Welsh at all has gone down. We are now in a position where nearly 78% of Year 11 students take some form of GCSE in Welsh. Back in 1998 that figure was less than 34%, so this is something positive even though there is still some way to go. I think it's fair to say that the WSL short course GCSE isn't very much of a qualification compared with the full course, but it is better than not taking any GCSE at all.
These tables show the overall picture, and a spreadsheet with all the details is available here: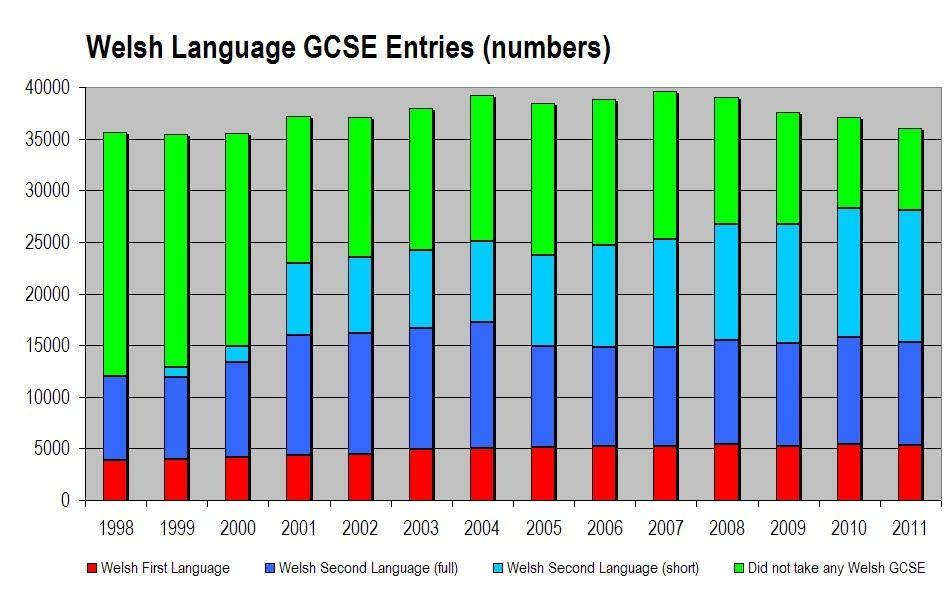 It goes without saying that the standstill in the percentage taking WFL and WSL (full course) is something that should cause considerable concern.
-
In the first instance, the figures for Welsh first language GCSE still do not reflect the percentages of children who are in Welsh-medium education. We know (from the 2010-11 WMES Report that 15.9% of children were assessed in Welsh at first language standard at the end of Key Stage 3 in 2009, so we should expect pretty much the same number to be taking a WFL GCSE in 2011. But the figures suggest that about 450 students who should be taking a WFL GCSE are taking WSL instead. As I've said before, sometimes this will be because a WFL student needs a certain number of A* or A grades for the next stage of their education or career, and would be guaranteed to get one if they "downshift" in this way. We can't blame individual students for doing this. But I suspect that some schools do this routinely as a way of enhancing their figures, and that is certainly not right.
We should also note that the figures are not likely to go up in the short term. The percentage assessed in WFL at KS3 this year was only 16.0%. However in the long term the figure should go up, reflecting the increase in numbers starting in WM education, but with the important proviso that we must improve the transfer rate from WM primaries to either WM secondaries or to a WFL stream in other secondaries. At present, the loss between primary and secondary education is over 16% of the WFL primary cohort.
The WMES set a target for KS3 assessments in WFL of 20% by 2015, which should be reflected in the WFL GCSE entry two years later. However, as the rate has not moved for the past three years (16.0% in 2008, 15.9% in 2009, 16.0% in 2010) this is now going to be a particularly tough target to hit. It can only be achieved if we take action now, in particular by ensuring that children who can speak Welsh to first language standards through being in WM primaries continue to be taught Welsh to first language standard even if some or all of the rest of their secondary education is not in Welsh. What has tended to happen is that all children in each school have been taught to the same, but lower, standard for the sake of those who haven't been in WM primaries (or who have been in traditional primaries which are nominally WM, but where the standard of Welsh is lower than in designated WM primaries). This means that the more able children have been held back, and the only immediate solution is streaming. But even so, it will take a few years for this to work through to the KS3 and GCSE figures.
-
For me, the more disappointing figures are those for Welsh to second language standard. Although it is good to see that more students doing the WSL short course are taking the GCSE that goes with it, we should also be seeing an increase in the number of schools offering the WSL full course as opposed to the short course. This lack of progress is entirely the fault of schools, for there is absolutely nothing to stop every non-WM secondary school in Wales teaching the full WSL course now. But there has been no real sign of any progress in the past few years, and things have now reached the point where it is obvious to me that nothing will happen unless the Welsh government does something to make it happen.
In practical terms, the most direct incentive that would change this is to make WSL a core subject alongside English, maths and science (WFL is a core subject only in WM schools). It is already a compulsory subject, and that wouldn't change ... but making it a core subject would mean that it will be measured as part of the Core Subject Indicator, which both government and schools regard as an important measure of performance.
The easier alternative would be to set minimum standards for teaching Welsh as a second language; but although that might mean that the number of hours of Welsh taught each week increases, it provides no incentive for the quality of teaching to increase. And beside that, schools should be largely free to set their own timetables rather than for each detail to be set by the Welsh Government. What matters is for government to set national standards, but then leave it up to schools to determine exactly how they achieve those standards. Making WSL a core subject would therefore be a better way to increase the standards of Welsh in non-WM schools.
If we introduce this now, at Key Stage 1, it would eventually work through and result in all students who do not take the WFL GCSE taking the WSL full course GCSE in about twelve years' time.


The original version of this post did not include those in independent schools in the overall number of students, this has now been corrected.