Back in this post in September, I noted that Ruth Salisbury, the Education Policy and Research Officer at Newport, had told a meeting at the National Eisteddfod that the city was actively planning to open a third WM primary school. I'm delighted to see that these plans have now been made public with the launch of a consultation on setting up a new school to open in September 2011.
New Welsh-medium primary planned for the city

Due to increasing demand, the council is moving to formal consultation on plans to open a temporary school at Maindee Primary School in September 2011. It would then look at finding a permanent location for a new school.

There are currently two Welsh-medium primary schools in the city - Ysgol Gymraeg Casnewydd in Ringland and Ysgol Cymraeg Ifor Hael in Bettws. A report to councillors says there are currently 77 places available in each of the school's year groups, with a combined total of 89 in the reception classes. But a survey carried out by the authority found that 105 reception places would be needed in 2012 and more than 140 would be needed in 2013.

The increase in demand means that the two schools, which are already over their foundation phase capacity, will no longer be able to cope past 2011. The council is therefore seeking to create a seedling school at Maindee Primary School, which will accommodate a total of 120 pupils from nursery to Year 1 and potentially Year 2.

The report says the city centre location of the school will allow as many pupils as possible from across Newport to have access to Welsh-medium education within two miles of their home.

If it gets the go ahead the facility would be open for a maximum of three years, which will give the council the opportunity to consider plans for a permanent location for a third school under its 21st Century Schools Programme. Until then the temporary school would operate under its own name, identity, governing body and staff, the report says.
As we can see in the picture below, Maindee Primary is a fairly new building, close to the centre of Newport, just behind Rodney Parade rugby ground.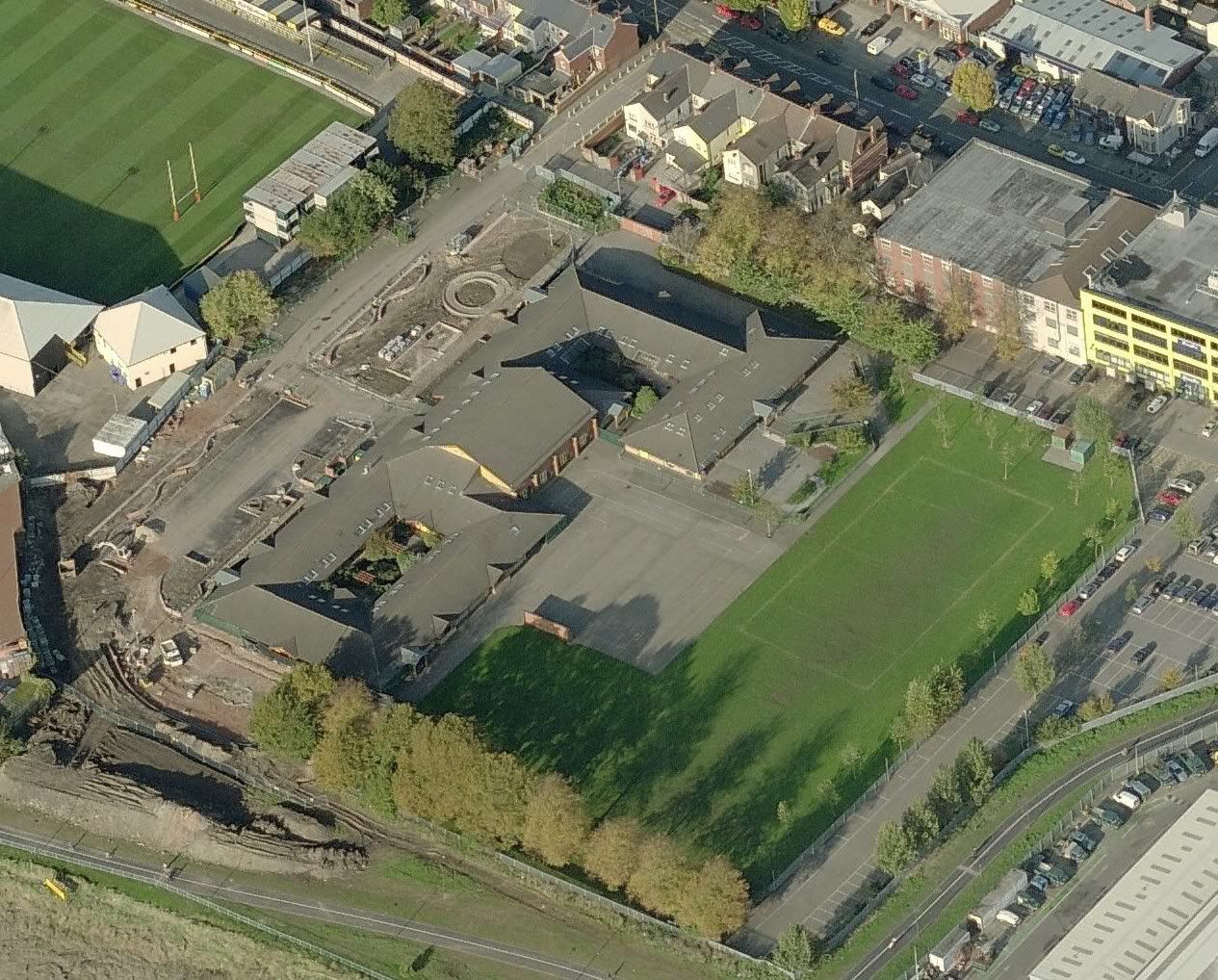 Based on the admission number of 65, the school has a capacity of 455 excluding nursery. But it currently has only 317 children, so there seems to be plenty of room for what is in effect going to be a starter school until a new permanent home is found. The best place for this will be in the west of the city, though the centre will probably do just as well.
Capital funding has taken a very severe hit in the allocation of the Welsh Block Grant, and the draft budget issued yesterday indicates that the capital budget for education will fall from a baseline of £183m this year to £173m, £161m and £144m over the next three years. That's a 21.3% fall in monetary terms, and in real terms is even worse because of inflation. But this doesn't mean that no new schools will be built ... it means that only about two out of every three schemes will be able to go ahead.
It's obviously too early to say whether the new permanent school will be one of them; but it's equally true to say that if the parents of 63 more children in Newport each year want them to have a Welsh-medium education, there will be 63 fewer children going to English-medium schools. So building a new school will not be the only way of meeting the increasing demand.
The figures also show beyond any doubt that Newport will need to set up its own WM secondary school in the next few years. At present children from Newport have to travel to Ysgol Gyfun Gwynllyw in Torfaen.