Let's start with the good news. It's right that the UK government has decided not to cut the £60m fund earmarked for the development of ports from which to build and maintain offshore windfarms. There was definitely a question mark over whether this money would survive the spending cuts, so I'm very glad it has.
But the bad news is that the UK has decided that only ports in England can bid for this money, as we can read in these reports:
Call for 'level playing field' on wind turbine subsidy
Wind farm scheme biased, says Welsh MP
I was going to write something short and scathing about this decision when I heard about it on the news this evening, but soon realized that the matter isn't quite as black and white as it appears.
The first thing to say is that Wales, Scotland and the north of Ireland will get a Barnett consequential from this England-only spend. For Wales, this will work out to about £3.53m under the present arrangements. However it should be said that if the ConDem government introduces the "Barnett Floor" as recommended in the Holtham Commission report, we would get 117% of this, i.e. about £4.13m. This should be a timely illustration of why we cannot let the matter of fair funding for Wales continue to go unaddressed. In times like this, every half million counts.
-
But if we are going to get our share of the money anyway, why exactly are Ieuan Wyn Jones and Albert Owen making such a fuss? Well, they haven't made that clear, but I hope at least one of the two will have thought of it like this:
£60m is not a lot of money. Any sort of construction work in order to develop a port to be able to handle the size of wind turbines involved is going to cost many tens, if not hundreds of millions of pounds. So for any grant from government to actually make a meaningful difference, the £60m pot of money can only realistically be divided between two or three ports. £20m will be a significant investment which should be enough of a sweetener to attract the rest of the investment necessary, but £5m won't make any real difference one way or the other. So even if we were to get our full £4.13m, we could not use it for a Welsh port in such a way as to compete if the UK government chose to give that money to say Liverpool, Barrow or Avonmouth.
The second factor in the equation is that DECC only this week signed a letter of intent with the Crown Estate setting out a strategy for the UK as a whole, rather than one that recognized the devolved administrations. We can read the details here:
The Crown Estate and Government
Signal Boost for UK Offshore Wind Supply Chain
So we have the classic muddle of one department of the UK government (Energy and Climate Change) working on a UK basis, while another department of the same government (Business Innovation and Skills) just thinks about England, because the money is classed as industrial support ... or at least that is what the UK government is saying in order to justify its decision to invest the £60m only in England.
Where, we have to ask, was our Secretary of State for Wales when this was being decided? It's her job to make sure that this sort of muddle does not happen ... but Cheryl Gillan has once again failed to do her job.
The end effect of this decision is clear enough. There will almost certainly be one manufacturing and maintenance port on the west coast of England, and either one or two on the east coast. A glance at this map of the new Round Three wind farm zones should make it obvious why: the largest new wind farm zones are in the North Sea.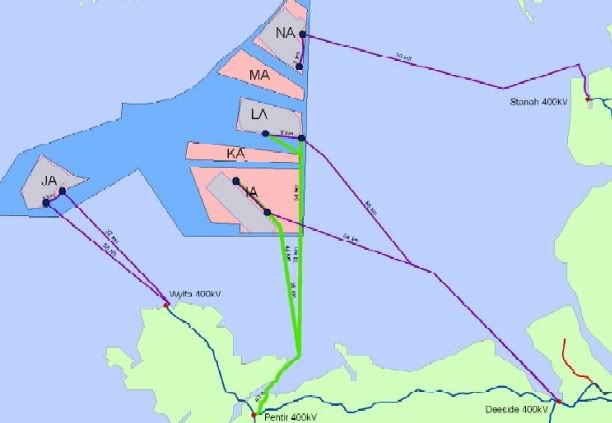 But on the west coast by far the largest Round Three zone is in the Irish Sea and, as the second map shows, the closest large port to it is Holyhead. So if the decision on where to provide money to help build new port facilities on the west coast is limited to England, it becomes pointless for us in Wales to provide a duplicate ... not that our £3.5m Barnett consequential could compete with the £20m or £30m that a port like Liverpool or Barrow could be awarded anyway.
That's why this decision is unfair. We have the potential to make Ynys Môn the nerve centre of the offshore wind industry in the Irish Sea, but Westminster seems determined to make sure that a port in England is given an unfair advantage over one in Wales, even though Holyhead is in a much better location for it. It's yet another example of the contempt agenda. Westminster simply concentrating on what's best for England, rather than working with the devolved administrations to develop a joined-up strategy.