A few years ago now, Swansea was one of the first local authorities to conduct a survey asking whether parents of very young children wanted them to have a Welsh-medium education when they reached school age. It wasn't particularly publicized at the time and I first heard of it almost a year later, when it was mentioned in this news release on the RhAG website. The headline figures were that 28% of parents wanted to send their children to WM schools no matter how far they had to travel, but that this figure would rise to 38% if a WM school were available within easy travel distance.
I wrote about it on the WalesOnline forum, crunching some numbers from documents on the Swansea website to conclude that, even using the worst case figures, Swansea would need to open some new WM schools:
The number of children in primary education in Swansea is set to reduce from the current 17,611 to 17,364 in 2011 ... an overall reduction of about 250 in three years. This means it should be possible to close a couple of English-medium schools (because the total demand for EM education will fall by 700 in the same three years and Swansea already has more than 3,200 surplus primary places) and convert them to WM with minimal inconvenience.
A few months later, in March 2009, Heini Gruffudd of RhAG published this paper on where new WM schools were most badly needed. This was no doubt in response to the fact that Swansea themselves had not come up with any public proposals for new WM schools ... even though the original survey had been done in 2007. It was good that Swansea conducted the survey in the first place, but it is a pointless exercise unless they are then prepared to act on its findings.
-
In the meantime Swansea, along with most other local authorities in Wales, were faced with a huge number of surplus of spaces in their schools, meaning that some schools would need to be closed. They put forward proposals for closing three primaries—Cwm, Arfryn and Llanmorlais—in March 2009, but because of objections each of these was eventually referred to the Education minister in the Welsh Government for a final decision. On Friday, Leighton Andrews made the first of these decisions, as reported here:
Cwm School closure is confirmed
Welsh Assembly Government agrees to close Cwm Primary School
As might be expected, the people who objected to the proposal won't be happy with the final decision. But the fact is that Cwm Primary is only about 300m away from Cwm Glas Primary, which is itself just about large enough for the children from both schools. The decision was inevitable.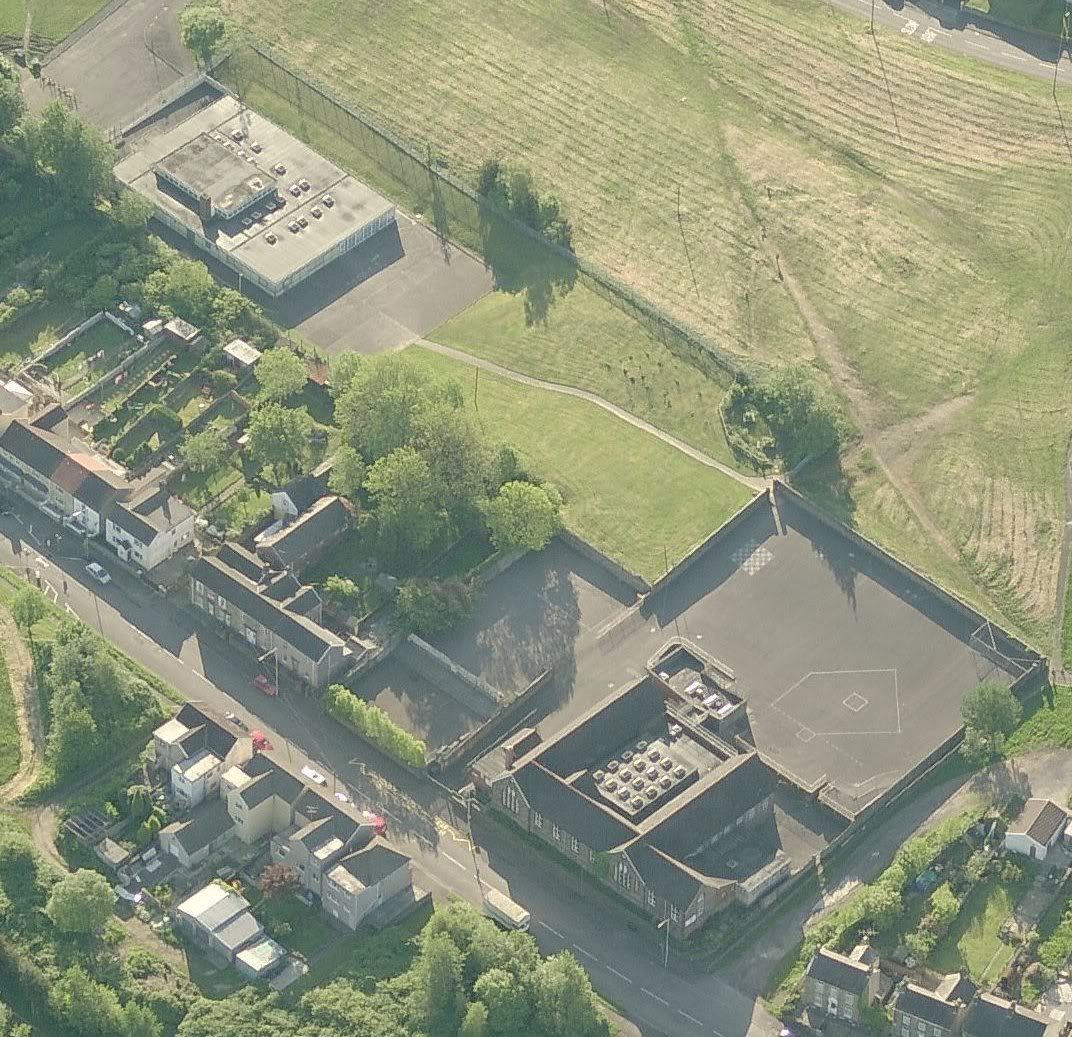 The picture above shows Cwm Primary, Cwm Glas Primary is below.
No school closure decision is easy, but what has happened does open up a solution to Swansea's problem of where to open at least one much-needed WM school. At present there is no WM school at all in East Swansea, at least not until you get as far north as YGG Lôn Las in Llansamlet. The RhAG report I linked to shows that a considerable number of children from Bon-y-maen have to travel 2km or more to get to YGG Lôn Las, and that some even travel 6km or so from St Thomas:
74 children from Bonymaen attend Lôn-las and 20 from St. Thomas. 9 children from St. Thomas attend Bryn-y-môr. 103 children from these areas suggests that there are sufficient numbers here to support a Welsh medium school, and quick growth could be anticipated.
So we have the bizarre situation where some parents are up in arms because their children will have to travel a maximum extra distance of just over 300m to get to Cwm Glas, while there are easily enough local children in Bon-y-maen who are currently having to travel many times further by bus or car to get to the closest WM school, but who would be able to walk if the Cwm buildings were to become a WM school. And for the community as a whole it's surely better for the buildings to remain in use, for they will be just as much available for community use outside school hours as they are now. To me, it's an obvious solution to a pressing problem.
Cwm Primary is closing simply because the numbers wanting EM education do not justify two EM schools with so many surplus places in such close proximity to each other ... but its closure opens up the opportunity for Swansea to provide more WM places in accordance with the wishes of the 28% of parents that want it for their children.
-
At just about the same time as the closure of Cwm was confirmed, Swansea announced some other plans for the expansion of WM education:
More Swansea school closure plans announced

As part of the council's plans to shakeup education in the city Pentrepoeth Infants and Juniors, and Graig Infants schools will close and a new all-through primary school will open on the Pentrepoeth sites.

... If the plans are given the go-ahead, the council wants to open a Welsh Medium school on the vacated Graig school to meet what councillor Mike Day, cabinet member for education, called "the continually growing demand for Welsh Medium education in the area."

... Current figures from Swansea Council show that there is enough capacity in a new primary school incorporating facilities at Pentrepoeth infants and juniors to include children from Graig infants.

Graig Infants currently has 51 full time pupils, but capacity for 113
Pentrepoeth Infants has 98 pupils with capacity for 123
Pentrepoeth Juniors has 239 pupils and capacity for 276
As the figures show, the children currently at Craig infants can be accommodated at a combined Pentrepoeth Primary School. It is just over 600m away. The current Graig Infants is more than half empty and although, as the picture below shows, it isn't big Morriston has the most crying need for more WM provision. There are no WM schools in Morriston, but last year there were over a hundred children from Morriston travelling outside the area to get a WM education.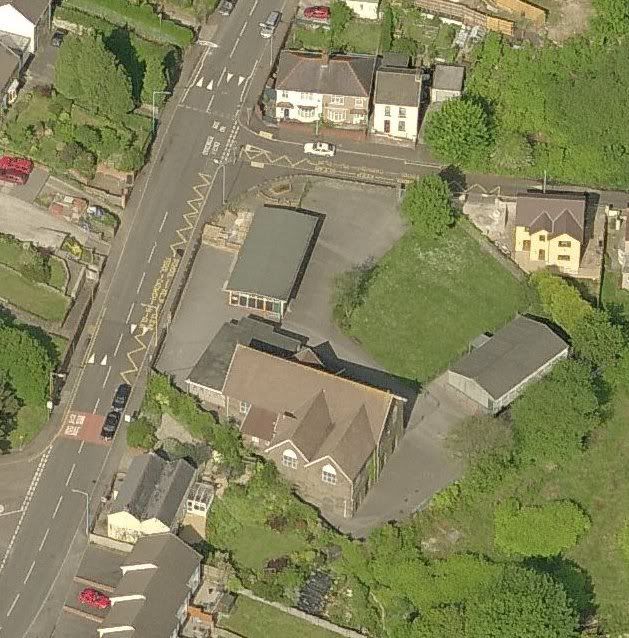 So this isn't really a closure. Converting Graig Infants to a small WM primary will comfortably fill what is currently a very under-used school with local children. To me, it again seems obvious. It's perhaps smaller than would be ideal ... but Swansea aren't coming up with any other ideas.
-
In conclusion, Swansea conducted their initial survey in 2007, but no new WM schools have been opened in response to that survey (Llwynderw was already under construction). Therefore plans for the next few WM schools are long overdue.
The decision to close Cwm opens the very real possibility of a new WM school being set up in September this year. That is an opportunity that must not be missed. Swansea's intention is for the Pentrepoeth/Graig reorganization to happen by 2011. That's possible but not definite, because the decision making process can take a long time if the matter has to be referred to the Assembly.
And there are some other possibilities ... but they will depend on the outcome of decisions which have not yet been taken.