One of the best lines in Leanne Wood's speech at the Plaid Cymru conference last month was:
"The Wales that we want to create will be operated by a fairly fundamental principle: that services run for the benefit of people can only be properly managed in the interests of the people."
She didn't use the exact word "owned" by the people, but it was clear from what she went on to say that the model that best seems to fit our circumstances now is that of a non-profit-distributing company along the lines of Glas Cymru ... which is effectively the same thing.
-
I don't quite know how I missed it at the time, but only a few weeks ago YouGov conducted a survey about public ownership and control of key sectors and services. The results are summarized here, and the full details are here.
These are the levels of support for public ownership and management of four key sectors: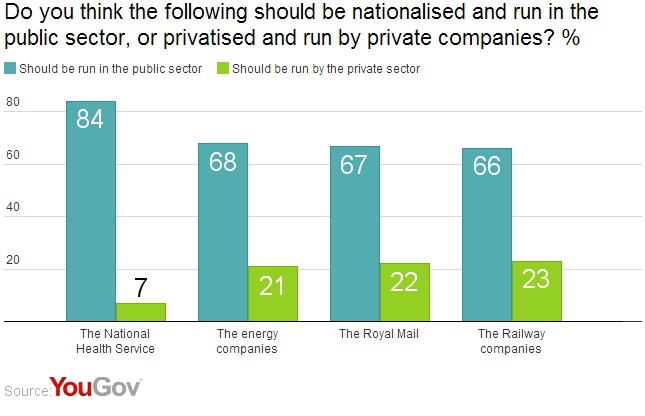 This graphic shows the level of support for public ownership and management of energy and rail services by voting intention for political parties: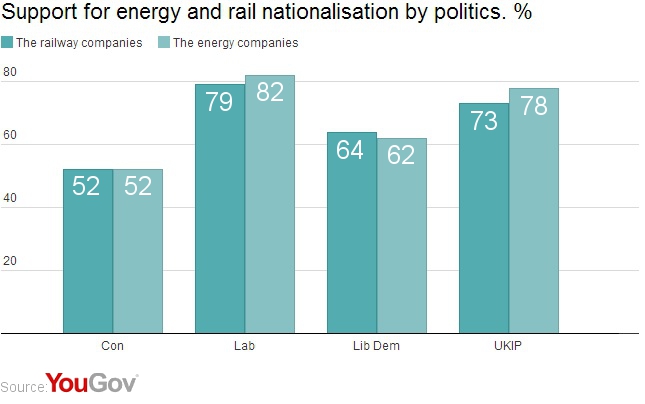 I think two things are surprising. The first is that even a majority of Conservative voters support nationalization of energy and rail services. In fact the margin of support is bigger than the graphic might suggest, for only 39% of Conservative voters wanted railways to continue to be run by private companies, and only 38% wanted energy to continue to be run by private companies. The rest were undecided.
The second surprise, to me at least, is that such a high percentage of UKIP voters are in favour of nationalization.
-
Another set of questions was about whether government should have the power to control prices: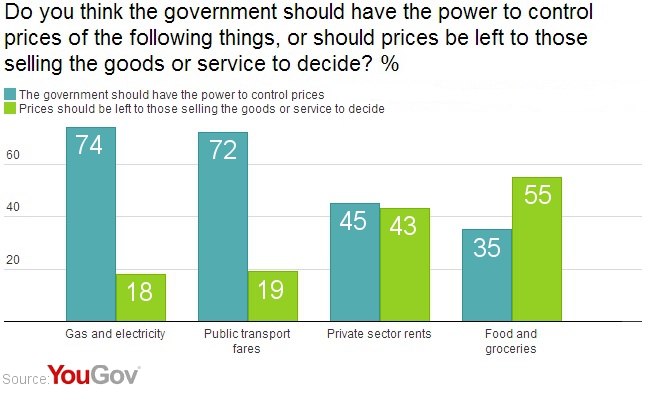 Although the margin favour of private sector rent control was quite small, public opinion ties in exactly with what Leanne said at conference:
"Due to the failure of successive Governments to build sufficient council housing and cool the housing market, many young people are forced to rent from private landlords well into their twenties and thirties. This is Generation Rent.

"There are 190,000 households renting in Wales. 14% of all households are in the private rented sector.

"Even during this long recession, rent rises have continued to outstrip inflation. In Wales over the last year rent has on average risen by 5%, well above the UK average.

"This is completely unsustainable. I am therefore announcing our intention today to reintroduce rent control for the private rented sector during the next Assembly term."
These are ideas whose time has come, and it should be clear to everyone that we in Plaid Cymru have our finger on the pulse of public opinion to a far greater extent than other parties.