Although the BBC is probably not doing such a bad job when it comes to distributing both subject matter and production around the UK (at least it's trying to address the issue) it is becoming increasingly obvious that other broadcasters are not doing nearly so much. ITV is a case in point, because their current financial model is such that it cannot supply the national (or, in the case of England, regional) diversity that we used to take for granted.
In the Scottish Parliament yesterday, Michael Russell of the SNP presented a paper outlining various options for the future of broadcasting in Scotland, which can be read by clicking the image below: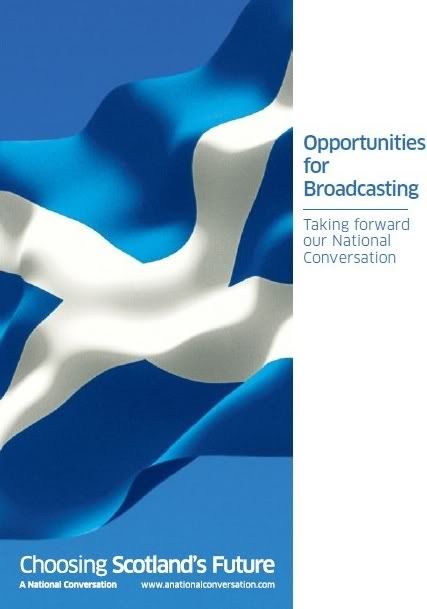 To give a taste of what it contains, this is from the news release:
Tuning in to Scottish viewers

Television viewers in Scotland could be guaranteed more content relevant to their lives and interests under different constitutional arrangements, Culture Minister Michael Russell said today as he published a discussion paper on Broadcasting - an area currently reserved to Westminster.

The Opportunities for Broadcasting paper sets out - as part of the National Conversation on Scotland's future - what could be achieved in relation to broadcasting under four different constitutional options:

• maintaining the status quo
• implementation of the Calman Commission's proposal
• devolution of further powers to Scotland
• full independence

Under current arrangements broadcasting is reserved to Westminster, although there is a dispensation allowing direct Scottish Government funding of Gaelic broadcaster MG Alba.

The Calman Commission made one recommendation on broadcasting - that Scottish Ministers should have responsibility for appointing the Scottish member of the BBC Trust.

Devolution of further powers to Scottish Ministers could enable adoption of measures to strengthen accountability for broadcasting in Scotland. That could include powers to establish and/or fund public service broadcasting bodies to ensure Scottish viewers have a choice and quality of programmes which reflects their needs.

Under independence, full powers for broadcasting would transfer to Scottish Ministers. It is likely that a national broadcaster would be formed based on the existing assets and resources available to BBC Scotland.
I haven't read it yet, but I thought posting about it might give us some ideas and stimulate a discussion about how we address the issue of broadcasting in Wales.