Because it was only reported by the BBC in Welsh, I thought it would be a good idea to tell anyone who missed it about the official opening of Ysgol Bro Teyrnon in Newport last Friday.
Ysgol Gymraeg newydd i Gasnewydd
This school had its first intake of children last September, and was planned to take 17 in the first year. It started with 16, but the demand has meant it has now had to take 24. Roughly the same number of new pupils will start this coming September. In total, more than 105 new pupils are expected to be admitted to Newport's three Welsh-medium primaries in September, and the demand is expected to keep on growing.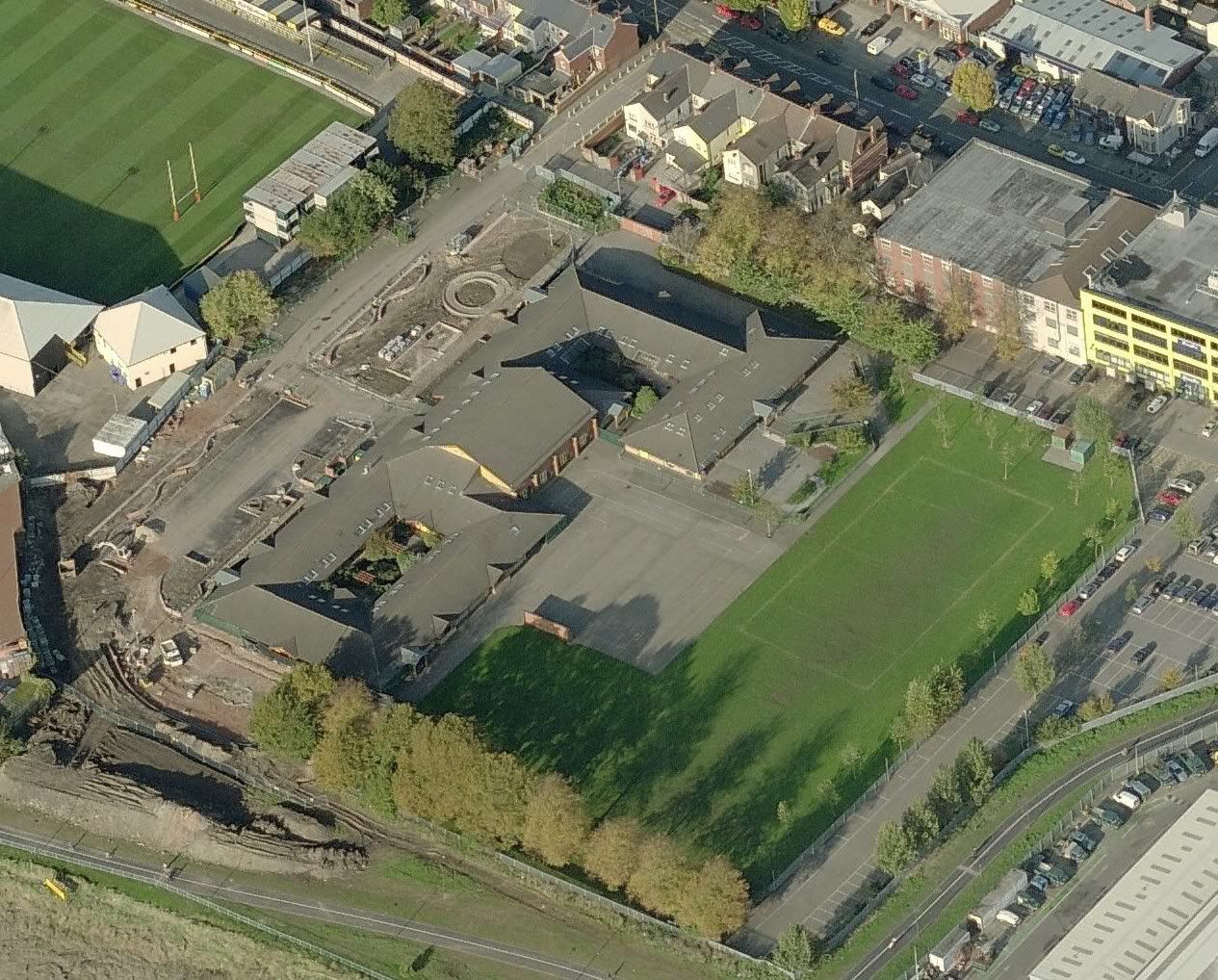 The problem is that Ysgol Bro Teyrnon does not have a permanent home. For now, it is being housed in Maindee Primary School—just behind the Rodney Parade rugby ground as we can see in the picture above—which has enough surplus space to accommodate maybe three WM year groups, but no more. Newport had planned to build a brand new two form entry WM school at Percoed Reen, to the south west of the city between Dyffryn and Coedcernyw as part of their original 21st century schools bid, at a cost of £12.5m. But the cuts to that programme of capital spending resulted in it being dropped in their revised bid:
Welsh-medium primary provision has been reduced in concept by a reduction in capital from £12.5m to a mere £1m, taking this project from a new build to remodelling within the current estate in order to relocate to a permanent site.
This means that the new home for Ysgol Bro Teyrnon will have to be in an existing school building, and the options are limited. I believe (though someone with more local knowledge might tell me better) that the former Durham Road Primary school building has not been disposed of following the move to the brand new Glan Usk Primary school a few years ago. The old building is hardly ideal, but it's better than nothing.
Apart from moving into vacated school premises the only other option would be to amalgamate two existing schools onto one site, and then use the other building. Needless to say, that would be fraught with difficulties.
-
As mentioned in the video report, the next big problem will be to open a WM secondary school for these children to move up to in a few years' time. At present children in Newport, Monmouthshire, Torfaen and Blaenau Gwent move on to Ysgol Gyfun Gwynllyw in Trefethin, but the continuing expansion of WM education across Gwent means that a second school will be needed within the next few years.
The obvious location would be somewhere in Newport; but if Newport can't afford to build a new WM primary, it's unlikely that they will be able to afford at least twice as much to build a brand new WM secondary. The most likely solution would therefore be to take advantage of the fact that Torfaen are planning on amalgamating Llantarnam and Fairwater schools on a new site (with the support of both schools, as we can read here) which they can still afford to do within their revised 21st Century Schools bid.
As we can see form the map above, Llantarnam School is less than 2km from the Newport border and has good transport links to take children from Newport and Ysgol Y Ffin in Caldicot, and perhaps from Cwmbran too. From the picture below it appears to be in serviceable condition, but if appearances are deceptive it could at least be a temporary solution until a new school can be built.
Taking one step back to see the wider picture, the biggest long-term problem is finding the capital to build new school premises. This is particularly true in Newport because it does not have a great number of surplus places in EM schools, mainly due to population growth. The original 21st Century Schools programme allowed for 70% funding from the Welsh Government and 30% funding from local authorities. In the revised programme, the split is 50% each.
The Welsh Government cannot borrow, and this situation is unlikely to change anytime soon. It certainly won't happen until after Silk has reported, and in my opinion won't happen even then unless the WG agrees to accept significant tax setting powers at the same time. The Treasury's argument is that you can't borrow money on your own account unless you have at your control the means of raising money to pay it back. But there are two other possibilities.
The first is the Build for Wales model, which is essentially PFI but through a not-for-distributable-profit body. The problem with PFI is the excessive profits made by the consortia, particularly on maintenance over a 25 or 30 year period; but that problem disappears if the profits are recycled to the next scheme (or back to the public purse) rather than distributed to private shareholders.
The second possibility is for the Welsh Government to coordinate the existing borrowing powers of local authorities, but to directly reimburse them for the cost of that borrowing. This has already been done once: only last month the WG set up a £60m programme with local authorities to pay for road repairs. As I mentioned in this post at the time, we should not be borrowing money to pay for maintenance, but it would be perfectly acceptable to use the same model for capital expenditure on new schools.