Those who read this blog regularly will already know about Swansea's decision to open a new Welsh-medium primary school in Bon-y-maen in the east of the city in the buildings which were used by Cwm Primary before it was closed in 2010. But today Swansea has announced what the school will be called and who the new head teacher will be.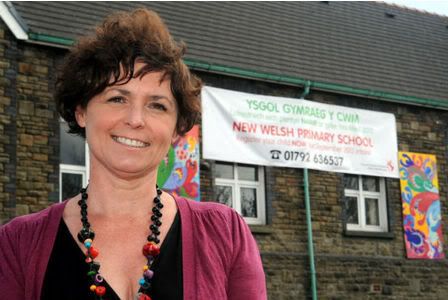 New head teacher to take the helm at Welsh-medium school
I'd like to add my congratulations to Rhian on her appointment as head teacher of the new Ysgol Gymraeg y Cwm, and wish her and the new school all the best for the future. If anyone can't quite read the banner in the photograph, it says that it's still not too late to get your child into the school this September. Just ring 01792 636537.
-
Swansea Council will want to make a lot of the fact that there are now eleven WM primary schools in the city, and that the overall number of WM primary places has risen by 735 since 2004, as it says here. But that is not a particularly large increase (in terms of intake, it is just over a hundred) and some of this increase is just a paperwork exercise. Three of Swansea's existing WM primaries—Gellionen, Pontybrenin and Tirdeunaw—had already increased the intake of these schools over the previous five years to the point where they were more than 25% over their official capacity, and therefore had to apply for permission to continue to take in more children, even though they were not physically increasing the space available for them. Details are in this Consultation Paper, and the decision was approved (although the increase was slightly reduced, Swansea seem to have simply ignored it) here.
So even with this new school, Swansea's other WM schools are bursting at the seams, and they appear to have no firm proposals for increasing capacity by opening another WM school elsewhere. There has been talk about building a new WM primary at Morriston and it is obvious that more provision will be needed there because Tan-y-lan, which was opened in September last year, is being forced to take in far more children than will be sustainable in the long term. As I noted here, in its first year it will take in 35 children, but only has room for 113 in total [see footnote].
-
It goes without saying that money is in short supply, and we need to recognize that Swansea has other schools which are in desperate need of repair or replacement. So even though I would love to see a brand new building to house a new WM school in Morriston, it would be some rabbit to pull out of the hat.
Swansea need a plan B, and I'd like to remind them of a solution that I put forward at the same time as I proposed turning Cwm Primary into a new Welsh-medium school.
A proposal for two new Welsh-medium schools in Swansea
Cwm Primary was one of three schools that Swansea closed in July 2010 because of large numbers of surplus places in their English-medium provision, the other two being Llanmorlais on the Gower and Arfryn in Pen-lan. RhAG in particular tried hard to get Swansea to open a new WM school at Llanmorlais, but their efforts fell on deaf ears and the building has now been sold anyway. But I have always thought that Arfryn was a more viable proposition, and the building still lies empty and in relatively good condition.
Although opening a new Welsh-medium school in the Arfryn building doesn't provide a direct solution to the problem of demand in Morriston, it does offer an indirect solution which is almost as good. As we can see from the map below (click the map to enlarge it) Tirdeunaw is drawing pupils from Morriston to the north-east as well from the areas to south; so if a new WM school is established at the Arfryn building, it will ease the demand on Tirdeunaw from the south to enable it to provide more places for children from Morriston, something that Tan-y-lan cannot do on a sustainable basis because it is so small. It also helps fill the all-too-obvious gaping hole where there is no WM provision at all.
So having got half of what I proposed before, it would be very satisfying to get the other half too. A new WM primary at Arfryn can be implemented quickly and at minimal cost. There is no reason why it can't be up and running by September 2013.


Footnote added 14:45, 21 April 2012
Looking at the Schools Census Data, Tan-y-lan has 15 children in Year 2, 13 in Year 1 and had 10 in the Reception Year in January (there will probably have been a further intake after Easter). It is unusual for a school to start with a triple intake, normally the first intake is just for Reception and Year 1.
This means that Tan-y-lan does have an intake that is sustainable in the long term. Sorry for the misinformation.