It's that time of year again. Listening out for first cuckoo of spring has been replaced by listening out for the first Tory to complain about free prescriptions in Wales. My reaction to last week's story was fairly similar to that of John Dixon in this post, where he wondered whether repeating the same old thing time and time again was actually more of a campaign than a simple act of reporting news.
I was, however, very impressed by some of the comments that followed the Western Mail's story, for they showed that people were no longer being taken in by unbalanced sensationalism being passed off as journalism. I didn't bother writing anything because I'd said almost the same thing in previous posts like this one, but today we have a follow up story in which the Western Mail concentrates on paracetamol. It is so bad that it deserves to be torn to pieces.
Paracetamol prescriptions costing Welsh NHS up to £50m a year
In the first instance, the story is portrayed as an "investigation" and talks of "figures obtained by the Western Mail". Talk about an inflated sense of self-importance. No investigation was required, the information on the cost of all prescription items is routinely released every year. The Welsh figures were published on 28 March, and are available from this page:
Prescriptions Dispensed in the Community, 2011
Paracetamol is in the "Chemicals P-Z" spreadsheet. The figures quoted by the Western Mail are correct, although one figure that they didn't publish would have been helpful. The total number of paracetamol tablets prescribed was 121 million, meaning that each prescription was for an average of 105 tablets. At a cost per prescription of £2.62, this works out at 2.5p per tablet or 40p for a packet of 16. Hardly an inflated price. This is what they cost at Boots.
But the idea that this can be inflated to "up to £50m a year" when the cost of consultation and dispensing time is taken into account is bogus maths of the highest order. People go to doctors because they are ill, want to know what's wrong with them, and want treatment for it. What you think might be just a persistent headache could be a brain tumour, and the real cost of a doctor's time will be taken up trying to determine whether it is just something minor or something more serious. Costs cannot be inflated in this way. The cost is what it is: just over £3m a year.
-
Next we get the Tory spin. Darren Millar hints that if prescriptions weren't free for everyone the Welsh NHS would be able to spend this £3m on something else:
"It is scandalous that millionaires and other top earners can get paracetamol at the taxpayer's expense.

"£3m a year would practically fully fund a Cancer Drugs Fund to enable cancer patients to access life-extending treatments currently denied on cost grounds. Labour's universal free prescriptions policy is simply not sustainable."
This of course is the sort of misinformation we've come to expect from Tories (and on the specific subject of drugs for cancer treatment, see this comment). They imply that if it wasn't for free prescriptions, the Welsh NHS would not be spending anything at all on prescriptions for minor items like paracetamol and would therefore have £3m more to spend on other things. The truth is of course very different, as we can see by looking at the figures for a certain neighbouring country that still charges many of its people for their prescriptions.
-
The English figures for 2011 were released on 4 April and are available from this page:
Prescription Cost Analysis, 2011
The equivalent (though slightly less detailed) figures for England are that 20,879,114 prescriptions for paracetamol were issued at a cost of £2.93 per prescription. Although we don't know how many tablets were included in each prescription the cost per prescription is roughly the same, which indicates that things are essentially similar in both Wales and England. About 18 times as many prescriptions for paracetamol are issued in England, but England has a population which is 17 times larger than Wales. The conclusion is obvious, the prescribing pattern for paracetamol in Wales is almost exactly the same as the pattern in England.
However in cost terms, England spends £61,270,062 compared with Wales' £3,024,300 ... so England spends more than 20 times as much on prescriptions for paracetamol tablets, even though its population is only 17 times as large as ours.
-
The Welsh NHS seems to have got it right. Which is just as well, for it means that there will be enough money available for the Accident and Emergency department at Ysbyty Glan Clwyd to treat an unfortunate Tory who happens to need treatment for a self-inflicted gunshot wound to his foot.


Update - 01:45 11 April 2012
Just in case anyone thought Darren hadn't really shot himself in the foot, someone has been kind enough to provide the photographic evidence: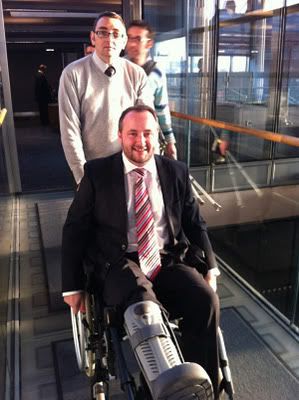 The police apparently couldn't persuade him to hand over the gun, so he'll probably end up doing it again. But at least he can smile about it ;-)>