The league tables for schools in England were published today and they included, for the first time, the new English Baccalaureate.
Those of us who know a little about the Welsh version might think that this is another area where England is catching up with innovations in Wales, but the English Baccalaureate isn't anything like ours. Nor, for that matter, is it anything like the International Baccalaureate.
The English version involves no additional course of study, no assessment, no exams. It is merely a label put against those who get a certain number of good GCSE results in certain specified subjects. Previously, one of the most useful benchmarks was to count those students who got five good (i.e. A* to C) GCSE results, irrespective of the subjects. The English Baccalaureate is just a fancy name for the same benchmark, except that it is limited to only a few fundamental subjects (it would be best not to call them core subjects, because core subjects have a different specific meaning) namely: English, maths, a science, a language and either history or geography.
I think the reasons for doing this are perfectly sound. There is a much wider range of GCSE subjects available now than used to be the case. I wouldn't go as far as to say that any individual subject is more important than another, but it is surely desirable that each student studies a balanced range of subjects at GCSE, and these subjects are necessary to provide balance. English, maths and science have always been core subjects in the national curriculum, but another language is something that has not been compulsory for some time, so including one in this new measure of achievement is a very positive step. All schools want to be in a good position in any set of tables, so this will act as a powerful incentive for them to reinstate language courses ... although it won't make it compulsory.
-
So I have no objections at all to the principle of introducing a new measure of this sort, but it is unhelpful and misleading to call it a Baccalaureate. Although the Welsh and International Baccalaureates are different, they both share a common purpose. They are designed to enhance and widen what a school student learns, encouraging personal development and giving them a more rounded education and a more useful set of skills for further education or the workplace.
In the case of the Welsh Baccalaureate, it is a much more valuable qualification than the individual GCSEs (in the case of the Intermediate Diploma; A levels in the case of the Advanced Diploma) that form part of it would be on their own. Everything is explained in this boooklet: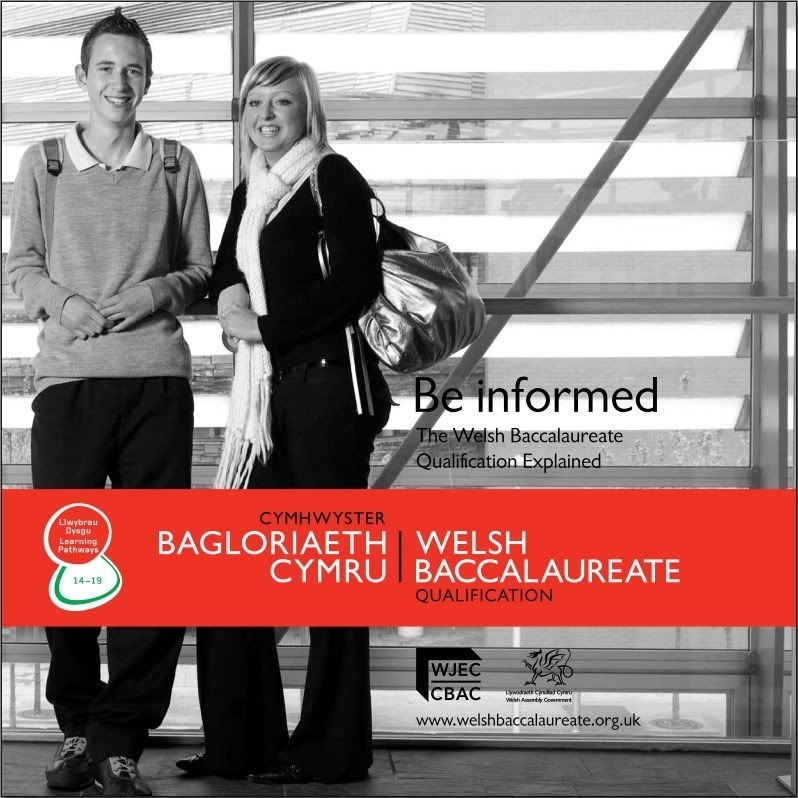 So we have a couple of big problems. The first is technical, but fundamental. The purpose of the Welsh Bac is to add to and widen a student's experience so as to make their education more rounded and relevant to them as individuals, and to better suit them for the world of work. The English version adds absolutely nothing, it is simply a fancy label to say that the student has a minimum number of good GCSEs in certain basic subjects. In fact it will have a narrowing effect, because it means that schools will now tend to concentrate on these basic subjects at the expense of the other GCSE courses available. In that sense an English Bac is the complete opposite of a Welsh Bac.
This leads to a second problem, which is practical and potentially damaging. When someone from Wales applies for a job and includes the Welsh Baccalaureate on their CV, an employer—particularly one outside Wales—might well have asked, "What on earth is a Welsh Baccalaureate?" ... but at least they would have asked and been given an answer. Now, that same employer is unlikely to ask at all. They will probably assume that it's the same thing as an English Baccalaureate rather than an important qualification in it's own right.
-
I think the Welsh Baccalaureate is one of the good things we are doing to improve the effectiveness of the education system in Wales. Like the Foundation Phase for early years education, we have learned from what is good in the education systems of other countries and adapted it so that it suits our particular circumstances. It would have been nice if the English did the same for themselves, but their English Baccalaureate is more the equivalent of a fake Rolex watch or Prada handbag.