When it comes to voting intentions, I'm sure most of us will know the particular significance of this young girl from the Fflintstones: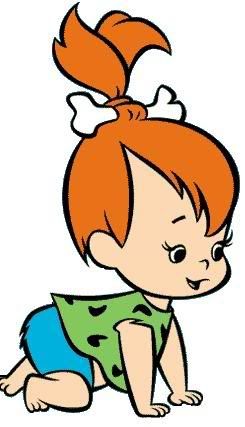 In Betsan Powys' blog today was some of the best news I've heard for a while. YouGov have set up a panel for Wales, and look likely to conduct regular Welsh polls.
Up until now there has been a dearth of information about public opinion in Wales, and voting intentions in particular. It is virtually impossible to glean information about Wales from the usual UK-wide polls, since even those that have some regional breakdown usually include Wales with the Midlands or South West England.
Over the past few years the BBC have done very well by commissioning an annual poll by ICM which comes out on St Davids Day (and also did one after the 2007 election to gauge opinion on the various coalition options). I certainly hope that this continues, as the continuity is a good way of establishing long term trends. Other than that there has only been ongoing research on attitudes to devolution, and recently the polls commissioned by the All Wales Convention. Plaid have occasionally added questions to Beaufort's quarterly Omnibus Survey, but the accuracy has sometimes not been that good. What we haven't had is any commitment to getting a quick response to day-to-day issues in Wales.
So this move from YouGov is definitely welcome, and I hope others will follow. The more information we get, the more likely we will be to understand the trends and issues that affect Wales ... and in turn for that understanding to help shape our policies. In all parties. This is one of the strongest signs that Welsh politics has moved from crawling to walking.
YouGov's first survey result is due out in a fortnight. That will be closely followed by the AWC's report which will include their final survey, carried out over the summer, on the likely vote in a referendum on primary lawmaking powers. It will be interesting to compare the two.
Let me take a shot at the result: I reckon that we will have 59% in favour of a "Yes" vote on primary lawmaking powers with 34% against and 7% undecided ... a margin of 25%. I would be very surprised if the margin in favour was less than 20%.