Although a little late, I want to say something about Toyota's decision to build the new Hybrid Auris in Britain, and especially the fact that the engine is going to be built here in Wales.
Although I am very much in favour of a radical shift in transport away from cars and onto public transport—and even more in favour of work, shopping and leisure being located close enough to communities to enable people to walk or cycle to them—the simple fact is that most people need cars for some things, and it is therefore better that we have greener cars to use on those occasions when they are needed.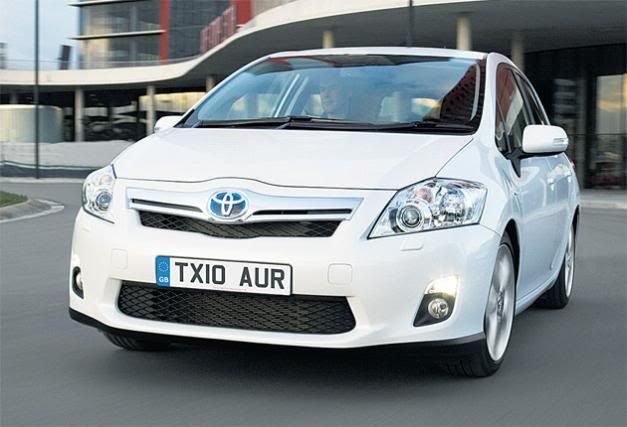 Negotiations between Toyota and the UK government have obviously been going on for some time, and it is a coup to have ensured that Toyota build the car in Britain rather than anywhere else in Europe.
However the news was leaked by the Sunday Times a few weeks ago, and the quote I've highlighted is particularly interesting:
Britain is to make hybrid cars for the first time after a decision by Toyota to start production of the high-tech vehicles at its Burnaston plant near Derby.

The UK is the first European country the Japanese car giant has chosen for hybrid production, and only the third outside Japan. Toyota makes nearly all its hybrids in Japan, with small numbers produced in China and America. The best known of these cars is the Prius.

The introduction of the new vehicle to Burnaston—a hybrid version of the Auris hatchback—follows intense negotiations with the government in recent months. It is understood that Britain will provide financial assistance to help the move ...

Burnaston makes the Auris and the larger Avensis in their entirety, using engines built at Deeside, North Wales, but the hybrid's drive system (engine, motor, batteries and electronics) will be imported from Japan.

This will be the first hybrid based on an existing production model that Toyota has sold in Europe.
Now of course it's possible that the Sunday Times got hold of the wrong end of the stick. But they seem to have been right about the rest of it, so I'd be more inclined to think that the decision to build the engine/drive system in Wales rather than import it from Japan was the result of some skillful negotiation in the last couple of weeks.
The real technological advance is the hybrid drive system, and it is good to see that Wales will be at the cutting edge of this part of the new low-carbon manufacturing sector.