Now that Michael Martin has announced he is stepping down, there will have to be a by-election in his seat, although probably after the summer recess.
The political battlelines there will be very similar to next door Glasgow East, where John Mason of the SNP last year overturned a Labour majority of 13,507 to win by 365 votes ... a swing of 22.54%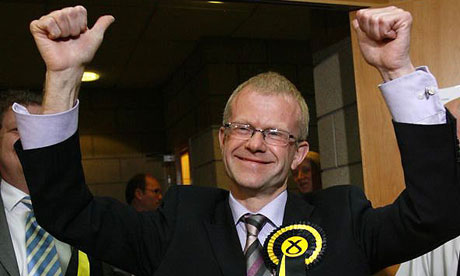 I'd have thought that Labour would at least be up for it, but from this article in the Scotsman (which is most definitely not an SNP newspaper) it would seem they are already resigned to taking one on the chin.
Nationalists poised to break Labour's grip on Glasgow North East seat

The SNP are strong candidates to snatch the traditionally safe Labour seat of Glasgow North East in a by-election, political analysts have said. Professor John Curtice of Strathclyde University said Labour would be fortunate to hold the seat if the SNP ran as competent a campaign as it ran in Glasgow East last summer.

The constituencies are very similar. They are both deprived, working-class areas with traditionally solid Labour votes, where no other party has done well for decades.

Having won in Glasgow East last year, however, the Nationalists will be confident of doing the same in Glasgow North East, particularly as Labour has become embroiled in the expenses scandal, while the SNP has avoided the worst of the fallout.

Prof Curtice said: "This is traditionally a very safe Labour seat but, at the moment, one would say that the SNP would win it if it can campaign as effectively as in Glasgow East."

Senior sources within Glasgow Labour have also admitted defeat. One said: "It is going to be brutal, and I think we are stuffed. We will either have to put up somebody with a lot of ability and fortitude or somebody who is willing to take the bullet. Willie [Bain] would fall into that category."

Another senior source said: "The party is reeling at the moment. We will fight this hard, but it's going to be very difficult to hold it."
Labour are in free fall. The Euro elections will prove that. But far from bringing on an early general election, it means that there is no possibility of them calling it before next May. No government would call an early election unless it thought it would win. So, like the Major government, they can only limp on to the inevitable, bitter end.
There is however one important difference between 1996/97 and 2009/10. Labour currently have a comfortable working majority in the Commons. This means that they have a year left in which to put through whatever legislation they think is important.
One of those things must be to put through the legislation for the referendum on primary lawmaking powers for the National Assembly. If Labour do it, they have a chance of implementing their manifesto commitments in Wales. Not just as part of One Wales now, but after the Assembly election in 2011 too. That isn't certain, of course, but it is at least within the realm of possibility ... something Labour could fight for and have a fair chance of achieving.
The choice for Labour in Wales is simple. Say yes to having a referendum, and we can to some extent protect ourselves from the next Tory government at Westminster. Say no, and we're stuffed.