A story in the Guardian yesterday helped put the extent of onshore wind power in the UK into perspective. The UK has only 1.11 wind turbines per 100 sq km.
Wind industry counters claim that countryside is 'paved with turbines'
The report said that England had a density of only 0.49 turbines per 100 sq km, but gave no figures for any of the other countries of Britain. That of course led me to find out what the density is for Wales. I couldn't find the report the Guardian referred to on the RenewableUK website, but we can get a fairly good idea of the figures from this list. It is slightly out of date (October 2010) but close enough for comparison purposes. These are the figures:
UK ... 2,615 turbines over 243,610 sq km = 1.07 per 100 sq km

Wales ... 498 turbines over 20,779 sq km = 2.39 per 100 sq km
Scotland ... 1,293 turbines over 78,772 sq km = 1.64 per 100 sq km
Northern Ireland ... 213 turbines over 13,843 sq km = 1.54 per 100 sq km
England and Cornwall ... 611 turbines over 130,395 sq km = 0.47 per 100 sq km
So yes, the density of onshore wind turbines in Wales is more than twice that of the UK as a whole, and five times as great as in England.
But is this a good or a bad thing? One way of putting it into perspective is to look at other European countries. These are the figures reported in the Guardian:
Denmark ... 10.85 turbines per 100 sq km
Germany ... 5.95 turbines per 100 sq km
Netherlands ... 5.54 turbines per 100 sq km
Spain ... 3.39 turbines per 100 sq km
So Wales has nowhere near the same density of turbines as these countries, and the density of turbines in some parts of these countries will be much greater than elsewhere: for example Navarre in the Basque Country and Schleswig-Holstein in Germany.
A second way of putting things into perspective is the remind ourselves just how little renewable energy the UK produces compared with all the other countries in the EU. This is from a post I wrote in April this year. If the image is too small to read, click it to open the pdf version.
Even though the UK has better renewable resources than virtually every other member of the EU, it is right at the bottom of the table, ahead of just Luxembourg and Malta. There's some helpful additional information from the German statistics office here.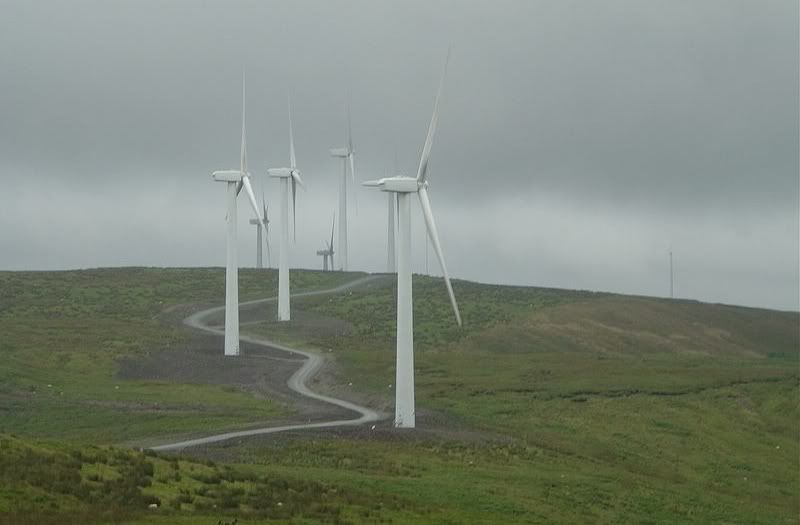 With this perspective, I think it's fair to make the following points:
• The UK is not taking its commitments towards renewable energy seriously enough
• The UK government has left it to Wales, Scotland and Northern Ireland to bear the lion's share of the UK's commitments to renewable energy, leaving England to bear very little of the burden
The second is to some extent understandable. Wales, Scotland and NI have better renewable resources and are therefore better placed to take advantage of them. But England is doing nowhere near its fair share.
Now if you are a NIMBY—and Wales has more than its fair share of those—the obvious solution is to claim that Wales has made a big mistake with wind power and that we should have sat with our hands in our pockets and done nothing more than England. I'm proud that we haven't, even though we have done less than some of our European neighbours. We in Wales have taken a decent share of responsibility for meeting climate change targets; it is not our fault if our neighbours on the other side of Clawdd Offa haven't. They are in the wrong, but two wrongs won't make anything right.
But that said, I think there are many things about our energy policy that are wrong. In the first place we need to change the balance with regard to wind power from onshore to offshore windfarms. Offshore wind power is much more effective than onshore; winds are stronger and more consistent meaning that they should operate at a capacity factor of about 35% as opposed to about 25% onshore. There can be no possible problem with noise or flicker.
We should also put much more effort into developing other forms of renewable energy, particularly tidal energy. I have written about why we should be developing offshore tidal lagoons here. Tidal power will be able to deliver the bulk of our energy requirements in Wales. At a smaller scale there is also plenty of potential for solar, hydro and other renewables ... and all this needs to be complemented with energy saving measures.
But there is still a place for onshore wind, and there are a number of ways we could improve the situation in Wales. First and foremost we could pass legislation requiring a minimum proportion of any new onshore windfarms to be owned by the community. It would be a welcome and imaginative addition to the rather lacklustre proposals outlined by Carwyn Jones this week. About a third of windfarms in Denmark are owned collectively by individual shareholders rather than by large energy companies, and they now require that a minimum of 20% of any development is owned by the local community:
We could also set up incentives for local ownership through non-domestic rates. In England, even the Tories are proposing that local communities can retain NDR for the first six years. For an example of how that could work, look at this proposal for a small four turbine windfarm only a few metres on the English side of the border near Knighton. There'd be nothing to stop the Welsh Government introducing better, permanent incentives for Welsh communities. These are our natural resources, it is only right that we should retain a greater part of the profits that are being made from them.